Wandsworth Warm Spaces offer sanctuary as cost-of-living crisis bites
Published: Friday, November 11, 2022
Local people offered sanctuary from cold as fuel bills soar
Libraries and community spaces offer warm welcome to those in need
Hot drinks, food and range of activities to support families
For children under 5 and their families, children's centres will be available
Interactive map shows your nearest warm space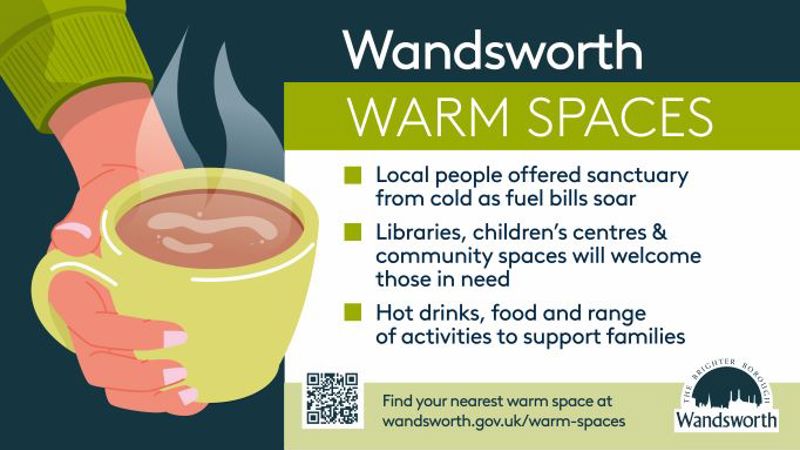 Residents across Wandsworth are being offered warm spaces where people can find sanctuary and a place to shelter from the cold.

Libraries, children's centres, community centres and spaces managed by the borough's voluntary sector, will be throwing open their doors to offer all those struggling to make ends meet a warm place to stay.

As well as a warm welcome at all the venues, people will be offered hot drinks, snacks, meals and a place to shower and wash at some, while in others a range of events, activities and entertainment will be provided. To find your nearest warm space please visit our Warm Spaces webpage. A helpline is also available for people struggling with their household bills. Call 0808 175 3339 and we can direct you to people who can help.
Council Leader Simon Hogg said: "We know that many of our residents are facing real hardship this winter because of the cost-of-living crisis.

"They are having to make really difficult choices about eating properly or keeping warm, which is why we are creating our Wandsworth Warm Spaces to provide a sanctuary to those in need.

"We are determined to do all we can to make a difference, by offering a compassionate helping hand and supporting our residents through these difficult winter months.
"The funding for this important scheme comes from council reserves. That means we can keep the same low council tax. This is important as council tax hits those on low incomes the hardest."
The council has invested £5m in cost-of-living support for residents including a £200k grant fund which is being launched this week to support voluntary and community sector organisations in their work helping residents. Community groups can find out how to apply for funding here. 
People are welcome at any of the borough's 11 libraries to keep warm and enjoy free internet access and a range of other events such as children's activities and coffee mornings - while five branches will be offering extended opening hours and activities like film clubs in parts of the borough where families are struggling the most.

Enhanced services are also being prepared at six children's centres which provide family-oriented services for young families of children up to the age of five. These include breakfast clubs, lunch and learn sessions, stay and play along with the chance for parents to charge phones, and where available, use shower and washing facilities. Later in the day older children will be able to complete their homework in warm and friendly surroundings, with internet access provided and evening meals also available.

And at the Rose Community Clubroom in Battersea an existing programme of arts and wellbeing activities on Mondays will be expanded to offer a hot meal and healthy snacks and free childcare support for up to eight children, each for two hours to run alongside its existing homework club, film screenings, and evening classes.
For more information please visit www.wandsworth.gov.uk/warm-spaces