Wandsworth Mayor opens London's first new community concert hall in 9 years
Published: Tuesday, November 1, 2022
The Mayor of Wandsworth cut the ribbon to open a state-of-the-art music school in Nine Elms which is home to London's first new community concert hall in nine years. The charity has an 'open door' policy for schoolchildren and local residents from all backgrounds.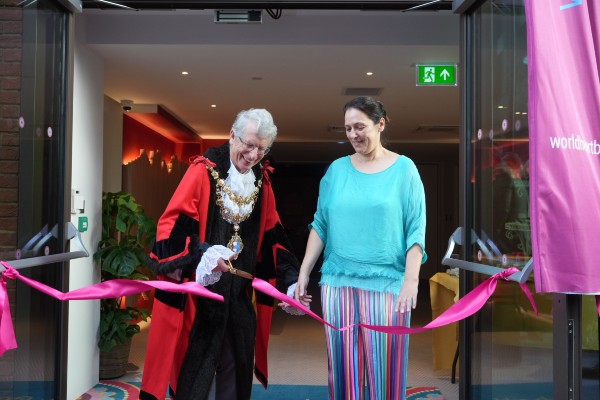 Mayor of Wandsworth and Councillor Kemi Akinola open new music academy for 5 to 25-year-olds
Local charity World Heart Beat expands from Southfields base
New venue brings jobs, voluntary and community activities for local residents
The Mayor was joined by Wandsworth Council cabinet member Kemi Akinola, guests including local MP Marsha de Cordova and young musicians from World Heart Beat music charity as they opened the doors to the building on Ponton Road, SW11 7BD.
Based within the academy, the new 200-capacity auditorium is the first public concert hall to open in London since 2013, putting Nine Elms on the cultural map of London and bringing volunteering and employment opportunities for local communities.
World Heart Beat Music Academy's new venue opens after years of fundraising by founder Sahana Gero and trustees to enable the charity to expand from its Kimber Road base in Southfields.
Hundreds more local young people can now benefit from music education and music industry skills, with 50 per cent of the places offered for free with tuition and musical instruments included.
'Strong future'
Kemi Akinola, Wandsworth Council cabinet member for Culture said: "I was delighted to be at the opening of this fantastic venue for World Heart Beat with state-of-the-art facilities that will help so many of our young people to fulfil their potential, regardless of their circumstances.
"This music centre also gives our communities the chance to participate in the cultural life of the borough and builds a strong future for creative industries choosing to make Wandsworth their home."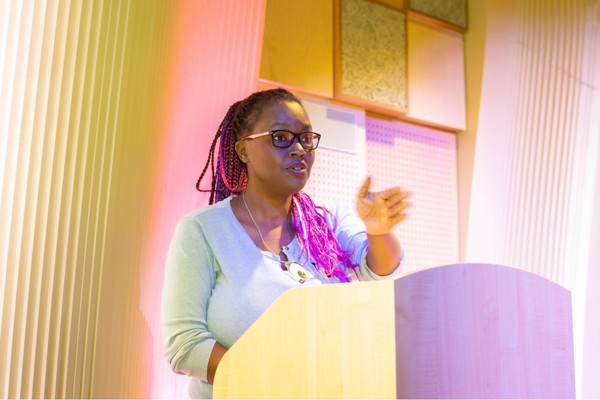 Cultural hub: Kemi Akinola welcomes the new venue for Wandsworth
The charity is inclusive with an 'open door' policy for music education, targeting young people aged 5-25 as well as establishing outreach activities in the surrounding housing estates and local schools including Griffin Primary.
The music charity has been busy in nearby Patmore Co-operative, Savona Estate, Carey Gardens, Doddington & Rollo and Winstanley estates with music sessions, workshops and concerts.
Through its Emerge programme, WHB is teaching a wide range of career skills from events management, to filming, sound engineering, radio broadcasting and more. The focus is to address the lack of representation of Black, female and disadvantaged young people entering careers in the music industry with a strong commitment to equality, diversity and inclusion.
'Inspiring'
Sahana Gero MBE, founder of World Heart Beat said: "We are honoured to be opening up World Heart Beat Embassy Gardens to add to the vibrancy and excitement around the new Nine Elms area. It is such a privilege to be able to contribute to the community with a state-of-the-art boutique concert hall and a music education facility. 
"Music brings everyone together, it brings joy by linking communities and breaking down political, economic and cultural barriers.
"We would like to think of World Heart Beat Embassy Gardens as an inspiring place to be, a citadel for musical aspirations and achievement. A welcoming home for all."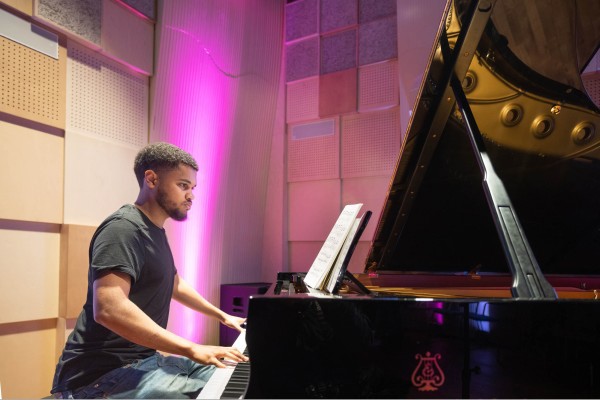 World Heart Beat pianist Callum Langford
World Heart Beat will manage the facility under a Social Value Agreement agreed with the Council, after being selected from over 40 organisations who were interested in using the new Embassy Gardens space.
The building is part of Embassy Gardens' developer EcoWorld Ballymore's obligations to Wandsworth Council to provide space for a new cultural anchor organisation in the area. World Heart Beat was awarded a 50-year tenancy of the 750m2 space on a peppercorn rent.
At a time when grassroots music venues are under threat the project is of national significance, setting out a future model for music venues with livestreaming infrastructure helping to reach a national audience online through concerts and teaching.
The management of the facility and the delivery of its concert and music education programme will generate new employment opportunities, with entry level positions targeted at local residents and young people, including those new to the workforce, as well as offering a range of skilled roles such as technicians and producers.
They will also provide affordable workspace to small and medium enterprises, with access to the recording facilities and support for entrepreneurs through training and guidance to help them grow their businesses.
The new concert venue will host concerts from grassroots and under-represented performers to well-known international acts.
See the 2023 programme and book your tickets on the World Heart Beat website.