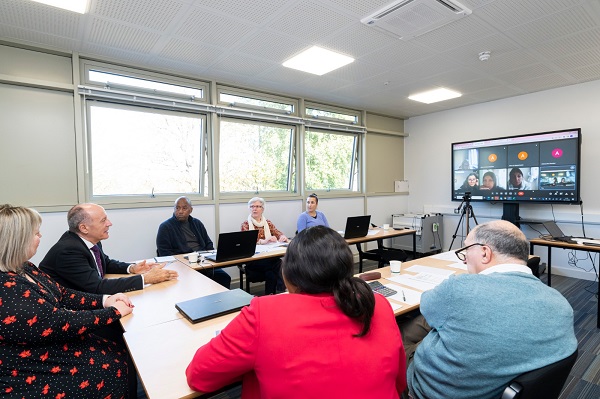 The London Multiply Programme will support around 31,000 people with no or low numeracy skills through nearly 300 free courses across the capital.
It will help them manage everyday tasks such as household budgeting and supporting children with homework as well as enhancing with future job prospects.
Deputy Mayor for Planning, Regeneration and Skills, Jules Pipe, visited Wandsworth Life Long Learning's Gwynneth Morgan Centre to launch the programme and meet some of Wandsworth's adult learners taking part. 
And he met the council's cabinet member responsible for education, Kate Stock, and discovered how Wandsworth is working closely with employers and community groups to deliver the innovative training.
London Multiply is already running in Wandsworth and more than 1500 people are expected to benefit over the next three years.
The Mayor of London, Sadiq Khan, said: "Many Londoners are struggling to get by due to the increase in inflation and energy bills. For those with low numeracy skills, this winter could be even more worrying. This funding will help Londoners get the numeracy skills and qualifications they need to progress into further learning and good jobs and ease the financial pressures that so many are currently facing.
Wandsworth council leader Simon Hogg said: "It's fantastic to see the London Multiply Programme launch in Wandsworth, which will offer crucial support to borough residents and Londoners across the City."
"Essential numeracy skills play an important role in helping people with everyday tasks such as budgeting, as well as for progressing in learning or work.  It's great to see Wandsworth Lifelong Learning join other organisations across the city in offering this training, working closely with local communities and employers."
In the last academic year more than two thousand people signed up for programmes run by Wandsworth Life Long Learning focusing on developing skills for work. Life Long Learning also runs courses for families, health and wellbeing courses for adults, apprenticeships and tailored courses for young people and the over-50s.
Find out how the team could help you.