Top grade for Wandsworth's work to tackle climate change
Published: Thursday, November 17, 2022
Wandsworth the only inner-London borough, to receive an A grade for climate action from CDP in 2022.
A-list cities take twice as many climate mitigation and adaptation measures as non A-listers
Rating comes as borough reveals scope of upcoming work to reduce emissions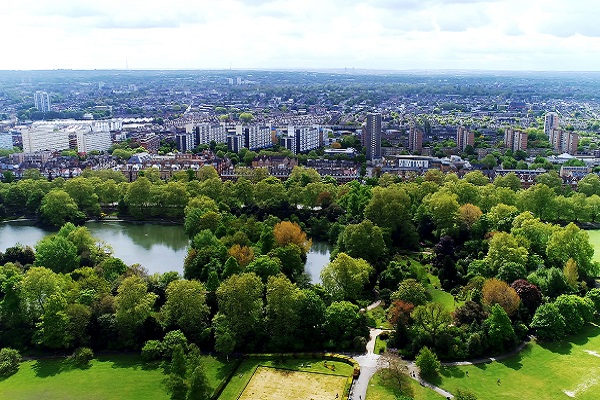 Wandsworth Council has today (Nov 17) been recognised as one of just 123 towns and cities worldwide – and the only inner London borough - to receive a top grade for taking bold leadership on environmental action.
Environmental impact non-profit CDP bases its A-rating on actions including: being transparent about the climate change response, completing climate risk and vulnerability assessments, publishing a climate action plan and setting science-based climate targets.
The news comes as new borough-wide proposals set out how the Wandsworth community will work together to reduce carbon emissions and improve the borough's air quality.
In response to calls from local people to take urgent action, the council has
Agreed the target to be a net-zero borough by 2043
Successfully bid for £3.5 from the Public Sector Decarbonisation Scheme to make improvements to council buildings. Measures including LED lighting, building fabric upgrades and solar PV will be installed in five leisure centres, five children's centres and six schools.

Improved energy efficiency and reduced carbon emissions in council homes. It is investing in communal heating in new buildings and working with residents to reduce energy consumption and bills. 

 

It is also

bidding for funds from the Social Housing Decarbonisation Fund for measures such as insulation, double glazing, thermostatic controls and other steps to increase energy efficiency.

Worked closely with schools. Energy audits have been carried out at all schools to assess energy-efficiency. The council will work with schools to make building improvements and has set up a Climate Change Network to provide further support.
Listened to the community. The Wandsworth Sustainability Partnership, due to be launched later this month, will bring together the public and private sectors, voluntary organisations and community groups, to share best practice and work together to tackle the climate crisis. Communications and engagement programmes also will be stepped up to reach more people – including work to help people manage the Cost of Living crisis by reducing fuel consumption.
Decarbonised the council pension fund. Up to £80m will be invested in renewable funds.
Cabinet member for the environment Judi Gasser said it was important to set ambitious but achievable targets based on science and alighted with national and global ambitions
"We are delighted to receive the A-rating from CDP, but it's importance not to be complacent. Now is the time for us all to step up and play our part. It's imperative that we all work together as a borough to meet these goals.
"There is no doubting the scale of the emergency and we need to pick up the pace and stay focused. We will take every possible measure at the council to put our house in order and we will take a leadership role to bring the rest of the community together in a real partnership that results in shared goals and actions to achieve net zero by 2043."