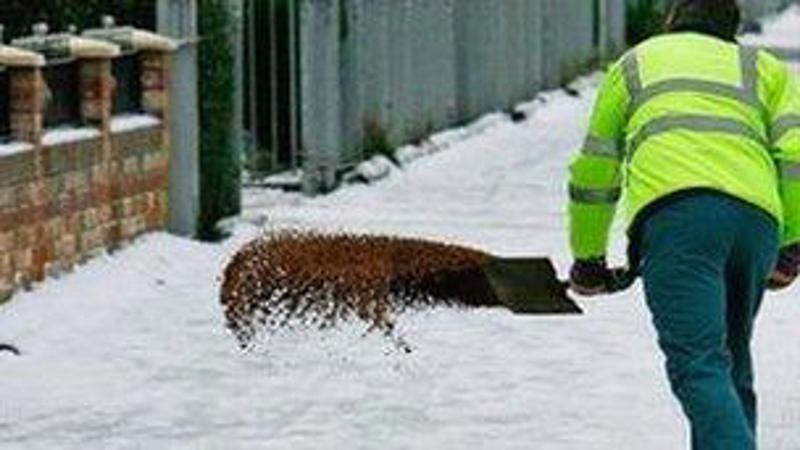 Although Londoners have enjoyed a prolonged spell of mild weather in recent weeks, a cold snap could be just around the corner - so the council is offering borough residents up to 50 kilos of grit free-of-charge to help them clear frozen footpaths.
Residents who want to take advantage of the offer should visit the council depot in Dormay Street between 9am and midday tomorrow (November 12) and the following Saturday (November 19).
They will need to bring some proof of address to show they live in the borough. The depot's postcode is SW18 1EY.
Wandsworth's cabinet member for environment Cllr Judi Gasser said: "When there is ice on the ground and people are struggling to get around, local people often contact the town hall to volunteer to clear paths in their neighbourhoods, which is why we are offering free grit to our residents.
"Local people also have much better knowledge of their neighbourhoods and are better placed to clear ice from the front garden paths of vulnerable or elderly people living close by."
And cabinet member for transport Cllr Clare Fraser added: "We will also be supplying sacks of grit to Wandsworth's 200 neighbourhood watch co-ordinators and filling up grit bins across the borough so that local people have an immediate stock close at hand.
"There are more than 50 of these bins located around the borough, situated mainly in hilly parts where icy pavements can be particularly treacherous.
"When snow has fallen, the priority is to keep the borough's main roads clear of ice so that the emergency services and public transport can keep running. Particular attention is always paid to entrances at tube and rail stations, hospitals, day centres, schools, care homes, clinics and nurseries."
When roads and footpaths are covered in snow and ice the council's fleet of gritting vehicles and dozens of staff are dispatched to clear it away, but with nearly 230 miles of road surface and 450 miles of pavements it is a massive task that always takes time to complete.
And to make the gritting of roads and pavements work effectively it needs repeated treatments – especially if temperatures drop further or there is another flurry of snow.
The gritting of borough red routes and their adjoining pavements is managed by Transport for London - these include the A3, A24, A205, A214, A306, A3205 and A3220.
For more information about how the borough is preparing for a cold snap this winter, and to find out where your nearest grit bin is located please visit www.wandsworth.gov.uk/snow. For more information about the free grit offer call (020) 8871 6750.
Grit bins can be found at the following locations:
Ravenslea Road j/w Nightingale Lane (Balham ward)
Nightingale Lane j/w Nightingale Walk (Balham ward)
Nightingale Lane j/w Bracken Avenue (Balham ward)
Parkgate Road junction with Searles Close (Battersea Park ward)
Bedford Hill j/w Ritherdon Road (Bedford ward)
Bedford Hill j/w Culverden Road (Bedford ward)
Galveston Road j/w Oakhill Road (East Putney ward)
Fawe Park Road close to the walkway over the railway (East Putney ward)
Carlton Drive j/w Putney Hill (East Putney ward)
Buckhold Road j/w Broomhill Road (East Putney ward)
Falcon Road j/w Kerrison Road (Falconbrook ward)
Chillerton Road j/w Ramsdale Road (Furzedown ward)
Welham Road j/w Ribblesdale Road (Furzedown ward)
Dahomey Road j/w Mitcham Lane (Furzedown ward)
Daleside Road j/w Moyser Road (Furzedown ward)
Southcroft Road j/w Rectory Lane (Furzedown ward)
Barnard Road j/w Lavender Sweep (Lavender ward)
Wakehurst Road j/w Webbs Road (Northcote ward)
Honeywell Road j/w Webbs Road (Northcote ward)
Wakehurst Road j/w Bolingbroke Grove (Northcote ward)
Danebury Avenue j/w Holybourne Avenue (Roehampton ward)
Ponsonby Road outside Roehampton Church School (Roehampton ward)
Alton Road near to j/w Bessborough Road (Roehampton ward)
Prairie Street j/w Queenstown Road (Shaftesbury & Queenstown ward)
Lavender Hill j/w Ashley Crescent (Shaftesbury & Queenstown ward)
Lavender Hill j/w Acanthus Road (Shaftesbury & Queenstown ward)
Lavender Hill j/w Thirsk Road (Shaftesbury & Queenstown ward)
Heathwall Street j/w Eland Road (Shaftesbury & Queenstown ward)
Dorothy Road (Shaftesbury & Queenstown ward)
Engadine Street j/w Replingham Road (Southfields ward)
Charlwood Road j/w Norroy Road (Thamesfield ward)
Fishponds Road j/w Beechcroft Road (Tooting Bec ward)
Derinton Road j/w Blakenham Road (Tooting Bec ward)
Rostella Road j/w Pevensey Road (Tooting Broadway ward)
Fountain Road j/w Pevensey Road (Tooting Broadway ward)
Effort Street j/w Hoyle Road (Tooting Broadway ward)
Undine Street j/w Totterdown Street (Tooting Broadway ward)
St Ann's Hill j/w Swaffield Road (Wandle ward)
Earlsfield Road j/w Bassingham Road (Wandle ward)
Magdalen Road j/w Multon Road (Wandsworth Common ward)
Swaby Road j/w Waynflete Street (Wandsworth Common ward)
Burntwood Lane j/w Bridgford Street (Wandsworth Common ward)
St John's Hill j/w St John's Hill Grove (Wandsworth Town ward)
St John's Hill j/w Harbut Road (Wandsworth Town ward)
Ebner Street outside St Faith's CoE Primary School (Wandsworth Town ward)
Allfarthing Lane j/w St Ann's Crescent - (Wandsworth Town ward)
Girdwood Road j/w Sutherland Grove (West Hill ward)
Skeena Hill j/w Beaumont Road (West Hill ward)
Linstead Way j/w Beaumont Road (West Hill ward)
Princes Way close to j/w Windlesham Grove (West Hill ward)
Augustus Road j/w Beaumont Road (West Hill ward)
Augustus Road j/w Sutherland Grove (West Hill ward)
Carslake Road j/w Tildesley Road (West Putney ward)
Dover House Road j/w Elmshaw Road (West Putney ward)