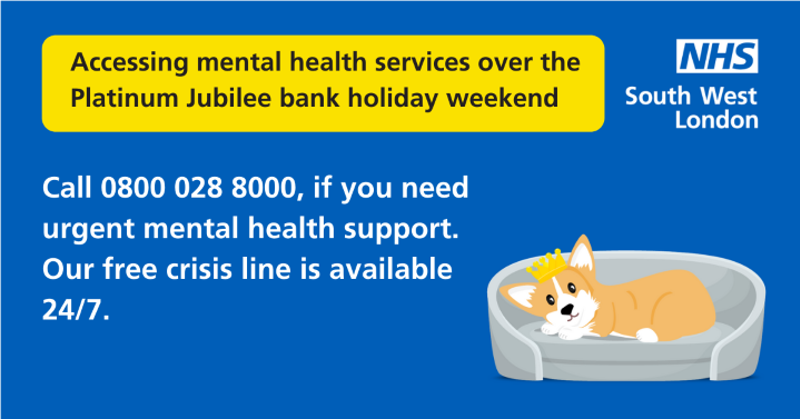 If you need mental health support in a crisis and live in Wandsworth call the 24/7 Mental Health Crisis Line on 0800 028 8000.
The crisis line, which is run by South West London and St George's Mental Health NHS Trust, offers emotional support and advice to people of all ages – children, young people, and adults. It is free to call and open 365 days a year.
Charlotte Harrison, Clinical Director for Acute and Urgent Care at the Trust, said: "We are here for you if you need urgent mental health support over the Jubilee Bank Holiday weekend, so please pick up the phone and call us if you or someone you know needs help. Our crisis line team are trained NHS mental health professionals who will help you to get the care and support you need."
If you are Deaf, you can call the Mental Health Crisis Line using Sign Live Video Relay Service (VRS):
On a computer, go to https://signlive.co.uk/login/ and register using Facebook, Google or email
On a phone, iPad or tablet download SignLive's app for free and register.
You will then be able to call the Trust for free.
Other NHS support
GPs are offering more appointments, including evenings and weekends, for people with urgent health needs.  Most appointments will be by telephone or through video consultation, but face to face appointments are still offered if necessary. 
Practices will let their patients know how to access urgent medical help between 8am and 8pm, with contact information also available on practice websites. People can also visit 111online or call 111 at any time, where they will be asked some questions about symptoms on the website, or by speaking to a fully trained adviser on the phone. 
Using 999 is for emergencies and should only be called if the situation is life-threatening. 
If you need urgent health care 
If it is a life-threatening emergency, then call 999. 
If you are told to go to hospital, then you must go. The NHS will help you get the care you need. 
If you need urgent mental health care  
If you need advice from a pharmacist  
For minor medical problems, not related to coronavirus, many local pharmacies will be open and are able to help this weekend – although their opening times may be different.
A number of pharmacies in London will be open for longer hours – search for a pharmacy at www.nhs.uk/service-search/find-a-pharmacy
If you think you need urgent dental treatment 
Call your dentist.
If you cannot contact your dentist, or you do not have one, use the NHS 111 online service or call if you cannot get online. 
If an appointment is necessary, this will be arranged at an urgent dental care centre. 
If you or someone you live with has coronavirus symptoms 
Stay at home and visit http://nhs.uk/coronavirus for health advice.  
Do not go to your GP practice, pharmacy or A&E. 
If your symptoms worsen, or you feel that you cannot manage at home, please visit the NHS111 online coronavirus service. Call 111 if you cannot get online or you've been told to do so. 
If you think you need advice from a GP 
GP services are available this Bank Holiday weekend. 
Contact your practice online or by phone to be assessed. 
If your practice is not open but an appointment is necessary, you will be advised of the next steps. Your appointment may be at another nearby service. 
Coronavirus vaccine 
Vaccines are available for: 
1st and 2nd doses for people aged five and over. 
boosters for people aged 16 and over, plus at-risk children aged 12 to 15-years-old. 
spring boosters for people aged 75 years old and over, plus people aged 12 years old and over with a weakened immune system. 
additional primary doses for people with a severely weakened immune system aged 12 years old and over.