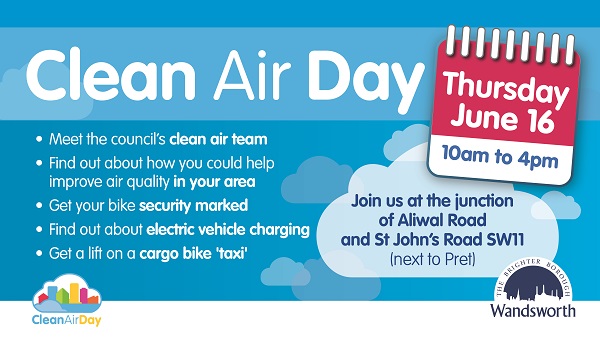 Residents are invited to go along to Clapham Junction to meet Wandsworth Council's clean air team, find out about how you could help improve air quality in your area, plus get your bike marked and find out about electric vehicle charging. You can also get a lift on a cargo bike 'taxi'. Go along between 10am and 4pm to the junction of Aliwal Road and St John's Road (next to Pret), SW11.
Meanwhile The Big Fuel Up is a free event for businesses and organisations to find out about using cargo bikes. There will be a chance to talk to other cargo bike users, like Humble Grape and the Wandsworth Parks Police, meet cargo bike suppliers and chat to other businesses over breakfast. Find out more about The Big Fuel Up.
Find out more about Clean Air Day.