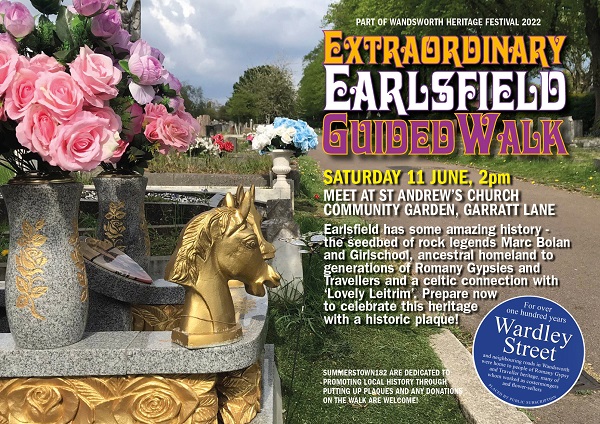 June is Gypsy, Roma and Traveller History Month (GRTHM), an annual event held across the UK to raise awareness and explore the history of GRT people.  
Extraordinary Earlsfield, a guided walk organised by local history project Summerstown182, will look at how nomadic people came to settle in the Wardley Street area of Earlsfield and the riverside industries where Wardley Street residents found employment.  
For generations families worked as flower sellers, costermongers and street traders. The walk will look at a community of costermongers who featured in a BBC radio programme in 1948 and will also visit Gypsy, Roma and Traveller graves in Wandsworth Cemetery.  
The walk will also look at the area's Celtic connections, and at its place in rock history, including the home of a young Marc Bolan. 
Later this year Summerstown182 will be unveiling a blue plaque celebrating the area's GRT communities.  
The Wandsworth Heritage Festival is organised by the Wandsworth Heritage Service on behalf of Wandsworth Council with the support of many contributors who generously share their enthusiasm, knowledge and time. See the full programme here.  
Find out more about GRTHM and download resource packs here.