Ofsted inspectors praise the borough's lifelong learning service
Published: Wednesday, January 12, 2022
The council's Lifelong Learning service which aims to improve people's quality of life skills and boost their employment prospects is meeting its ambitions and intentions according to independent assessors.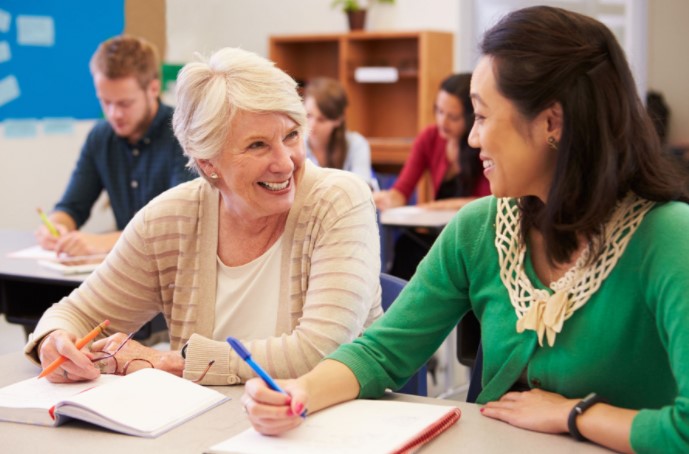 Inspectors from statutory watchdog Ofsted have concluded that the Wandsworth Lifelong Learning (WLL) service continues to be a good provider of adult education to the borough's residents.
The team is committed to ensuring that Wandsworth residents have access to a wide range of high-quality learning opportunities in a safe learning environment. Provision will be demand-led, flexible and held at times and in places designed to meet the needs of learners, employers and the local community, making Wandsworth a vibrant, prosperous learning community.
Annually the Lifelong Learning team enrols over 2,000 adults on courses delivered directly and in partnership with other local education and training providers.
At any one time the service, part of the council's children's services department, directly supports around 300 adult learners enrolled on a range of courses that include English for speakers of other languages (ESOL), English, mathematics and information technology (IT).
A further 200 learners are currently completing courses with WLL's six partner providers, while 24 apprentices are enrolled with most taking business administration apprenticeships.
The Ofsted team concluded: "Learners and apprentices are proud to be part of Wandsworth Lifelong learning. From the time they arrive for their course, they feel that staff are there to support and help them.
"Most learners achieve qualifications or learning goals. For many learners, attending a course helps to reduce their isolation, build their confidence and improve the wellbeing. Learners appreciate the fact that teachers pay good attention to their specific needs and as a result are on courses that feel highly personalised to them.
"Because of the effective partnerships that WLL has with its subcontractors, learners can find courses that help them gain skills for employment and personal development that are taught in their local community. Learners enjoy their learning and the new skills that they gain.
"They produce work of a good standard. Apprentices learn the skills they need for their jobs, gain confidence to take on increasingly complex tasks in what is, for some, their first permanent job after school or university."
The service played a key role in offering support and training during the pandemic, delivering not only class-based provision, but a comprehensive online offer. Highly skilled careers advisors were on hand to enable residents to benefit from the courses available.
A number of adults were able to use the courses available to get back into employment, including local resident Lucian Thomas who wrote: 'I am writing to say I now have a job offer from Santander - and it's a 'proper' job offer. I am so excited, and I firmly believe that undertaking the course you offered really helped me securing and passing the interview process."
The inspectors also praised council leaders and managers for working effectively with town hall departments and external organisations such as the Chamber of Commerce "to ensure that the courses offered continue to meet the needs of residents. They have carefully chosen the subcontractors they work with to broaden their curriculum and widen participation of residents in adult learning. They have a suitable plan for incremental growth of the education and training they offer, particularly for their apprenticeship provision where they focus well on ensuring apprentices move into long term sustainable employment.
"In many cases, the courses offered are intended to enable participation by women with childcare commitments and those with low levels of literacy. Leaders also have a highly effective partnership with Deaf First to teach courses such as British sign language.
"Employers of apprentices are highly satisfied with the service they receive from WLLL because apprentices bring the new knowledge, skills and behaviours they learn to the workplace. As a result, many employers have taken on multiple apprentices over time and many apprentices take on new areas of responsibility or gain promotion at work."
The council's education spokesman Cllr Will Sweet said: "This is a very positive assessment of the high quality of adult education on offer to Wandsworth residents.
"I particularly welcome the inspectors' praise for the excellent work the service is doing in supporting apprentices and helping them gain the skills and experience to help them find employment and move up the careers ladder – and for highlighting the fact that employers are highly satisfied with the service they receive from the lifelong learning team.
"I would urge young people who are ambitious and want to acquire new employment skills to get in touch and find out how the service can help them. And the same is true for adults who want to accomplish new job skills or just enjoy learning. It's never too late to learn."
The council's Lifelong Learning team run a wide range of courses for adult learners, including apprenticeships and courses to help people develop skills for work as well as the opportunity to learn to maintain positive mental health and well-being. For more information visit www.wandsworthlifelonglearning.org.uk
If you would like some careers advice call 07919 392 254 or email Dustine.Davis@richmondandwandsworth.gov.uk.