World Heart Beat launch music session videos ahead of Nine Elms music academy opening
Published: Thursday, February 17, 2022
Wandsworth music charity World Heart Beat are getting ready to move into their new Nine Elms home with a series of music session videos featuring their young musicians celebrating the history of the area.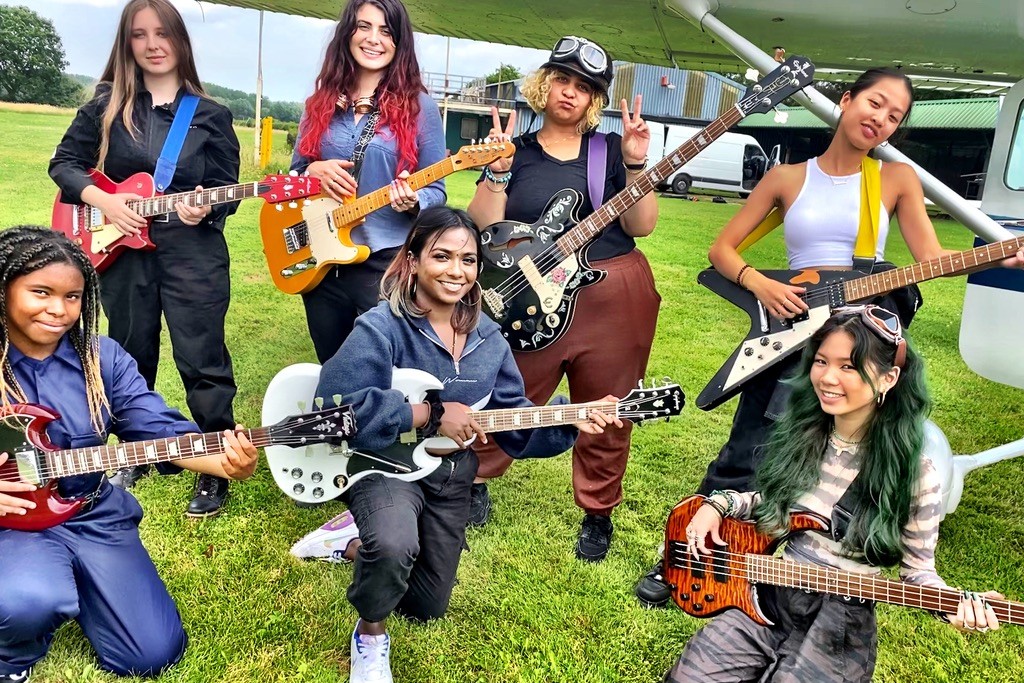 From summer 2022, World Heart Beat will be welcoming students to their new concert venue and music academy in Embassy Gardens, SW11, in advance of its official launch in October this year.
The Nine Elms Sessions present a series of six music videos celebrating the area's local community whilst reflecting on the area's heritage, identity and future. They have been made with support from Wandsworth Council and developer EcoWorld Ballymore's Embassy Gardens where the new venue is taking shape.
The first of six music videos, released on 17 February, celebrates what would be the 158th birthday of early aviator Hilda Hewlett. Hilda ran a successful aircraft manufacturing business in Battersea which built more than 800 aircraft during the First World War and she was the first British woman to earn a pilot's licence.
The academy's version of Fly Away, by Lenny Kravitz, features the next generation of musical talent from World Heart Beat in the first video of six to be released over the next five months.
Cllr Ravi Govindia, Leader of Wandsworth Council said: "We're delighted that these music sessions herald the countdown to opening World Heart Beat's new premises in Nine Elms".
"It has been the council's priority to support cultural organisations as they make their home in Nine Elms, so we worked hard to help the charity secure this space and get it right for the future. The Levelling Up funding that we were awarded with World Heart Beat is helping to create a state-of-the-art music education facility and London's newest concert venue – providing unrivalled opportunities for our young people from all backgrounds."
Sahana Gero, MBE, Founder and Artistic Director at World Heart Beat said: "The Nine Elms Sessions, kindly supported by Wandsworth Council and Embassy Gardens has given us the perfect opportunity to celebrate our local community and showcase our musical talent through exploring the past, present and future of our soon-to-be new home, Nine Elms."
"Nine Elms has so much to offer. While the past reflects on its commerce and industry, the future promises arts, culture and opportunities. Our new music academy and concert hall will provide inspiration and joy through learning music, as well as career opportunities for young people, and a music venue offering an exciting programme across a diverse range of music."
Find out more about World Heart Beat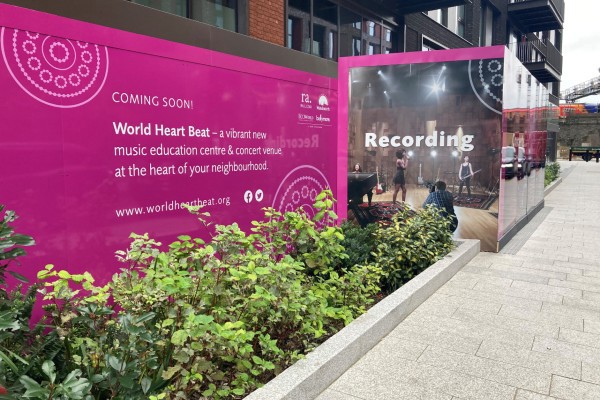 More music sessions coming up
The next five Nine Elms music sessions videos include:
Year 5 students from Griffin Primary School taking part in the Samba Parade, in honour of Mardi Gras (or Carnival Tuesday) and celebrating the vibrant Latin communities living in the area. The school took part in weekly Latin samba workshops and headdress-making sessions before parading through the school and local Patmore and Carey Gardens estates. Release date: Tuesday 1 March


The third music session looks at settlers on the Thames, highlighting the importance of the River Thames and this section of London's South Bank as a popular destination over the centuries for Irish settlers seeking long-term employment and seasonal work, particularly in the construction industry. Release date: Thursday 17 March


The fourth session celebrates the UN's International Day of Happiness as young musicians take part in communal marimba playing of Sarura Wako, a traditional Zimbabwean children's song, filmed on Thessaly Road at the Happy Street railway bridge designed by Yinka Ilori and commissioned by Wandsworth Council to brighten up the area. Release date: Sunday 20 March


The fifth session plays homage to rock band The Who, who in the early 1970s converted the old church on Thessaly Road into Ramport Studios specifically to record its Quadrophenia album. My Generation was the song of the mid-60s rebellion and was all about finding a place in society, written by The Who's Pete Townshend on his 20th birthday. The video of young World Heart Beat musicians will be released on Pete Townshend's 77th birthday. Release date: Thursday 19 May


The Nine Elms Sessions finishes with young Heart Beat talent performing Handel's The Arrival of the Queen of Sheba, to coincide with the Queen's Jubilee Weekend. Musicians perform in and around Nine Elms landmarks, including the US Embassy, Battersea Power Station, New Covent Garden Flower Market, Riverlight Quay and give a sneak preview of the soon-to-open new music academy and concert hall space. Release date: Thursday 2 June.
The new music space was awarded to World Heart Beat by the London Borough of Wandsworth and EcoWorld Ballymore, from a competitive field of 42 cultural organisations. The space will extend the work at its existing Kimber Road music academy, providing a centre for musical excellence and doubling its current teaching capacity per year. The charity will be a 'cultural anchor' alongside other arts organisations including Theatre503, Matt's Gallery and Chocolate Films, and benefitting thousands of young people particularly welcoming those living in the adjacent communities on the Patmore, Savona, Carey Gardens, Doddington and Rollo Estates.
Find out more about World Heart Beat's Levelling Up Fund on the Nine Elms London website