Wandsworth Council recognised for new homes delivery
Published: Friday, February 4, 2022
The last two years have presented challenges to councils and the construction industry to maintain delivery of much needed homes to meet demand. Across the country, the Covid-19 pandemic delayed starts on site and pushed back on-going housing projects.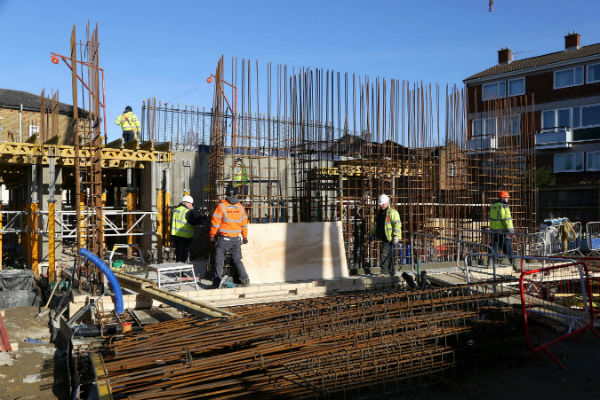 Throughout this period, Wandsworth Council has remained committed to enabling and promoting high quality and sustainable development of much needed homes of all tenures, including through the council's own 1,000 homes build programme. The council's efforts have now been recognised in the New Homes Bonus allocation for the coming year with positive signs for new homes growth recognised by the London Mayor in relation to the pipeline for development
Over the last five years, the council has delivered nearly 11,000 new homes of all tenures, exceeding delivery targets. The London Mayor's Annual Monitoring Report from March 2021 shows that over the last three years for which reports are available (2016/17-2018/19), Wandsworth has delivered the highest number of net completions (6,653) relative to all its neighbouring boroughs. Net completions only counts additional units after demolished home numbers have been taken into account (e.g. homes lost through estate regeneration). Relative to all other London Boroughs, Wandsworth has the third highest overall delivery in the same three-year period.
The London Mayor's report also highlighted that Wandsworth has delivered the fifth highest net level of affordable completions in London (886) and is ranked first for net intermediate completions (642) – this is housing provided to low-to-middle income working households including key workers living or working in the borough.
Among the most recent projects delivered is the 71-home all affordable council housing development off Shuttleworth Road. Work was completed in December 2021 and marks the council's largest completion in its Housing For All Programme, which has committed to deliver 1,000 new homes by 2027.
Councillor Jonathan Cook, Cabinet Member for Housing at Wandsworth Council, commented:
"We're incredibly proud of the work we are undertaking in Wandsworth and of every project that we complete. Our Housing for All programme uses spare and underused council land to build high quality homes for Wandsworth residents and workers. We have already secured consents or completed work on almost half of our target of delivering 1,000 new homes by 2027.
"We have always been committed to working with developers and housing associations to see high quality and sustainable developments delivered. The proof of our success is in the strong pipeline of housing we have been able to secure, as is evidenced in the Mayor's Annual Monitoring Report and the New Homes Bonus allocation that Wandsworth residents will benefit from."
The council's own figures show that there are over 2,200 genuinely affordable new homes forecast to be completed over the next three years including 358 new affordable units due to be completed in 2021/22. The following two years (2022/23 to 2023/24) could see a further 1,878 affordable homes completed that will meet the latest size, quality and environmental standards.
By March 2023, Wandsworth Council is also on course to complete works on its 248th new home since the Housing for All programme began. All homes in the programme to date have been low-cost council rent, with the exception of nine new homes which are for leaseholders transferring from the Winstanley York Road regeneration areas.
Councillor Ravi Govindia, Leader of Wandsworth Council, said:
"In spite of difficult circumstances, Wandsworth Council has continued to deliver impressive housing numbers to meet the local need for more homes. I'm delighted that our hard work has been recognised by the New Homes Bonus and that through our Housing for All programme we are using council land to provide more renting and low-cost homeownership opportunities for the residents and workers of Wandsworth.
"All of the housing projects that we support and work on are about more than simply bricks and mortar. Council development is a case in point with wider environmental and infrastructural improvements factored into any development we propose. We expect a similar approach from other developers so that we continue to build communities and neighbourhoods our residents can be proud of. The coming year will see some of our largest estate regeneration schemes at both the Alton estate and Winstanley and York estates taking significant steps forward, and as such our delivery of new, fit-for-purpose housing will continue to grow."
Wandsworth's excellent record of delivery is reflected in this year's New Homes Bonus allocation from central Government. Based on the recorded delivery, is set to receive the 5th highest New Home Bonus allocation in London and is due to receive £4.8 million from the Government this year. Since the New Homes Bonus scheme was introduced in 2011/12, Wandsworth has consistently received one of the highest bonus payments in London to a total of £94 million in cash to support improvements to infrastructure and services.