Council's £20k boost to help families overcome digital exclusion
Published: Friday, February 11, 2022
An award-winning voluntary organisation that has been working tirelessly throughout the pandemic to support vulnerable families overcome digital exclusion has been given a £20,000 boost by Wandsworth Council.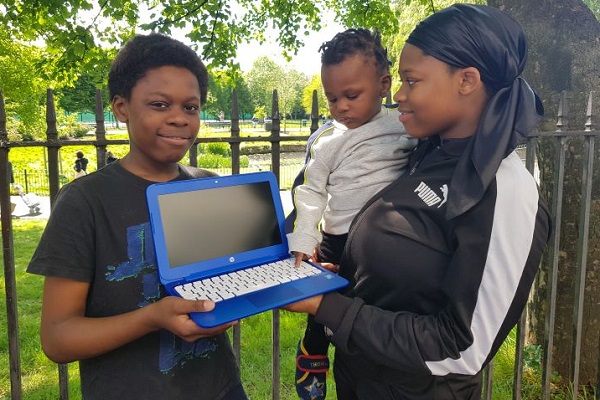 Power to Connect was created in 2020 at the beginning of the pandemic to provide laptops, tablets and wi-fi dongles to schoolchildren whose education and learning had been disrupted by lockdown.
The organisation, created as a partnership between Wandsworth Council and Battersea Power Station, was set up to ensure that every young person in Wandsworth who needed one would have a laptop or tablet so that they could take part in online lessons and complete homework assignments.
So far Power to Connect has donated 1,630 devices to support young people in Wandsworth. It has also delivered six digital skills training sessions for parents and this additional £20,000 in funding will help to expand this programme, which offers advice and tuition to parents on key topics like online safety and privacy.
The partnership with Battersea Power Station forms just one part of the council's wider efforts to offer digital support to families in need. In total the council has overseen the provision of around 7,500 laptops and tablets to local families throughout the pandemic.
Megan Barrett, Head of Operations at Power to Connect, said: "The launch of the digital skills sessions in local schools has been a great success and we are already starting to see parents' improve their understanding of the digital world and gain more confidence in using devices. Our primary goal is to make sure children engage safely and get the most out of the device and connectivity at home. However, we believe this investment in digital skills will benefit the whole family.
"This latest donation from the council will help us to grow our digital skills programme as well as continue to coordinate the redistribution of devices to those who need them most. This will support Power to Connect evolve from being a Covid-19 response project to a sustainable, recycling project that demonstrates a greener way to provide children and young people with the technology they need to succeed."
Cllr Will Sweet, Wandsworth Council's cabinet member for education and children's services, said: "The Power to Connect partnership has achieved so much during the pandemic and we are proud to be part of it.
"More than 1,500 Wandsworth families whose children didn't have a laptop or a tablet have been able to continue their learning online as a result of this partnership. It's helped make a huge difference by keeping them on top of their lessons and up to speed with their education.
"It's great too that we have been able to help parents build their digital skills and this latest cash award will help build on these achievements."
If you are interested in the free digital skills session please email hello@powertoconnect.co.uk.
For more information about its work visit www.powertoconnect.co.uk or follow @PWRtoConnect on twitter.