Colourful new planters brighten up streetscape
Published: Friday, February 4, 2022
Residents and visitors to the borough will have noticed colourful new street features that have appeared over the course of the last week with the arrival of new plants and shrubs in a series of pavement planters at key locations.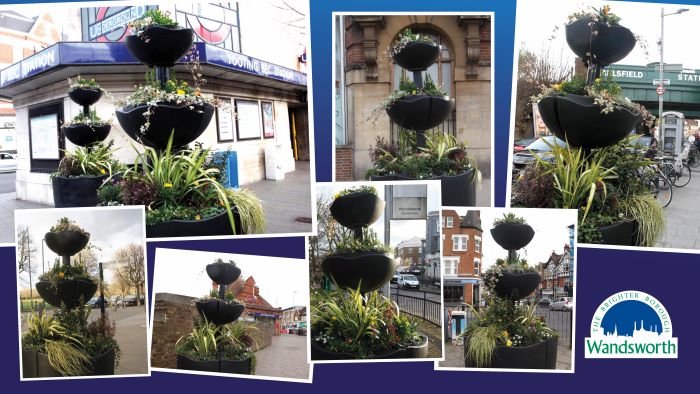 The planters have been installed at two locations in Bellevue Road, next to Wandsworth Common and outside the entrances to Tooting Bec and Southfields tube stations and also Earlsfield Station.
The planters allow people to enjoy the shrubs and greenery without interfering with the many different utility pipes and cables that run just underneath pavements at these locations.
They have been introduced as part of the council's recently unveiled £5m public realm renewal project that will see a series of refurbishments and improvements to Wandsworth's streets, green spaces and infrastructure.
Between now and the end of March this money will be invested in renewing pavements and road surfaces, upgrading footpaths in parks and commons, improving street lighting, cleaning up bridges, investing in high streets and shopping parades and removing unnecessary street clutter.
This improvement fund is additional money over and above existing budgets and is paying for investment in the following areas:
• More pavement and road resurfacing - £2.05m
• Improvements to local shopping parades - £580,000
• River promenade upgrades - £440,000
• Rail bridge underpass lighting projects - £540,000
• Road Safety – Additional pedestrian crossings and compliance measures -£890,000
• Green spaces footpaths and railings - £500,000
Transport spokesman Cllr John Locker said: "The arrival of these attractive planters and the flowers and shrubs they contain have added some welcome greenery to the street scene and made these locations more welcoming.
"They are just the latest in a stream of similar improvements which have seen new planters appear in Putney High Street and also in Balham's Bedford Hill. As a council we want to ensure our public realm is as good as it can be with more greenery, well-maintained pavements and roads, better lighting and improved safety for pedestrians and cyclists."