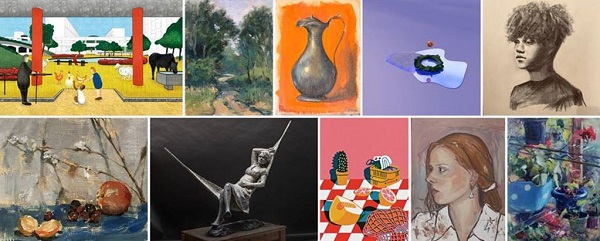 Throughout 2021, the council's FRAMED projects turned the borough's streets into  outdoor art galleries, with works by local artists displayed on banners.  
As well as livening up high streets, and encouraging people discover the work of artists living in their neighbourhoods, FRAMED has also provided a platform for artists to exhibit their work safely during the pandemic. 
FRAMED is led by the council's arts team and funded as part of the council's £5m public realm renewal project which is funding series of refurbishments and improvements to Wandsworth streets, green spaces and infrastructure this financial year.  
For 2022, FRAMED presents a new set of 32 artworks in Falcon Road and Grant Road in Clapham Junction, featuring 14 new artists as well as displaying 18 who took part in 2021. Styles include contemporary painting, traditional portraiture, photography to conceptual art, digital drawing, sculpture and illustration 
Artworks have been selected from the artists and makers featured on Wandsworth Art (wandsworthart.com), a digital project launched in 2020 after the pandemic cancelled all exhibitions and events, including the annual Wandsworth Artist Open House. Wandsworth Art provides an online forum profiling hundreds of exceptional artists, designers, makers, poets, and arts organisations based in the borough. 
FRAMED Artist Suzi Morris said: "I was delighted when Wandsworth Council contacted me to ask if I would be interested in participating in FRAMED. I have been touched when people have contacted me through social media saying that they have seen my painting and sending me photographs. I strongly believe that art should be for everyone so I'm very proud to be part of this public art project." 
Cabinet member for community services and open spaces, Councillor Steffi Sutters, said: "In 2021, FRAMED brought much-needed colour to our high streets during the pandemic. We may be returning safely to galleries once again, but embedding art in our public spaces, and in the heart of our communities, is still vital. 
"The wealth of artistic talent living in our neighbourhoods is astonishing, and FRAMED brings that talent out from behind closed front doors and invites us all to celebrate and enjoy it." 
Notes to Editors 
Artists new to FRAMED for 2022 include: Adalberto Lonardi, Ann Witheridge, Archie Wardlaw, David Barreiro, Emma Sutton, Fengjin Yu, Hannah Perry, Helena Boase, Ida Nissen, Maddy Gyselynck, Mark Chen, Ramona Guntert, Scott Pohlschmidt and Tomas Harker. 
Returning artists, whose work is already visible around Clapham Junction, include: Alice Wilson, Charlie Hawksfield, Dairo Vargas, Grace Brookes, Jayson Singh, Jon Schwochert, Luch Ash, Nneka Uzoigwe, Olivia Twist, Raksha Patel, Ralph Anderson, Roopa Rajapaksha, Sally Loughridge, Sol Golden Sato, Steven Chandler, Stuart Serjent, and Suzi Morris.