Children enjoy first two revamped play spaces open in Nine Elms estates
Published: Friday, February 25, 2022
The first two of eight spaces across Patmore Estate, Savona Estate and the Yvonne Carr Centre in Nine Elms are close to completion following significant works that began in November 2021.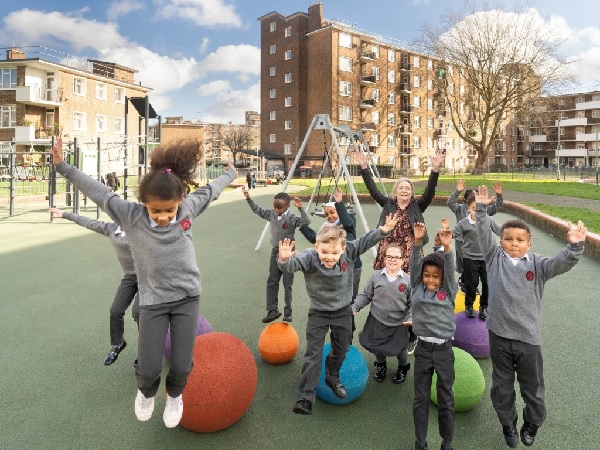 Each area will be for residents to exercise, play and relax. Six spaces are currently being refurbished to a very high standard, along with the introduction of two new play and exercise facilities located within existing recreational spaces, one at the Savona Estate and the other at the Yvonne Carr Centre. 
Over the past few years, the views of residents in the estates have been vital to the shaping of the look and feel of each area.
Throughout the works in the winter months, there have been challenges with weather and delivery of materials due to COVID-19 pressures, but Wandsworth Council has worked hard to keep refurbishments on schedule to have all the sites finished this spring.
This means that the community, residents and children who live and go to school nearby can enjoy the outdoor spaces throughout the year and during the warm summer months. 
Community spaces
Councillor Steffi Sutters visited the completed Patmore play space as local schoolchildren from Griffin Primary played on the new equipment.
Cllr Steffi Sutters, Cabinet Member for Community services and Open Spaces, said: "We are so looking forward to the refurbished outdoor sport and play areas opening in this part of Wandsworth after a long time working with residents on this project. It is wonderful to see children playing and residents enjoying the spaces. It really shows how community spaces in Nine Elms can benefit from improvements Wandsworth Council makes using funding from developments nearby." 
The outdoor area upgrades are an important part of Wandsworth Council's programme of improvements using funding from Nine Elms developments to invest back into the local area. This includes better local walking and cycling facilities, a new park, leisure, health and school facilities and opening new stretches of the Thames river path.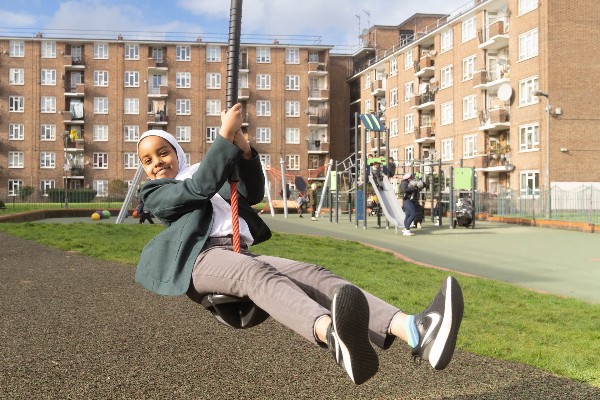 Residents are seeing their ideas come to fruition with the introduction of new play equipment including swings, see-saws and a zip wire, table tennis for all ages and sports equipment with a focus on cardio and resistance training such as rowing, leg presses and cross trainers. 
Patmore Estate and the Yvonne Carr Centre area will have a greater focus on sensory planting and have features like bug hotels and birdboxes to encourage biodiversity in the area. Each of the outdoor spaces will also incorporate a variety of new soft landscaping such as plants, grass, shrubs and trees. 
In the coming weeks there are big improvements to two spaces on Savona Estate and on a third space at Patmore Estate, along with the creation of a new play area at the Yvonne Carr Centre.
Find out more on the Nine Elms website