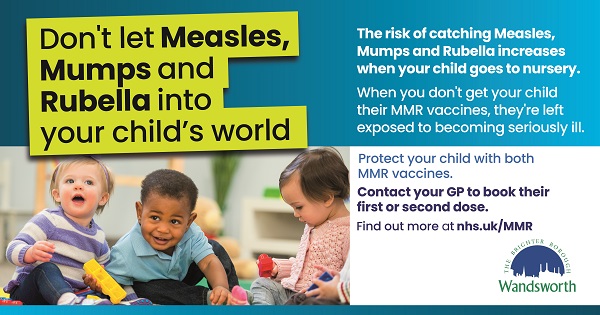 Vaccine uptake has decreased across the country; in Wandsworth more than one in five children are not fully protected by the age of five. This means they are at risk of catching measles.
Measles is an infectious disease that can lead to complications such as ear infections, pneumonia, and inflammation of the brain. It can also lead to hospitalisations and, on rare occasions, long term disability or death.
Measles is highly contagious and as many children have missed their jabs during the pandemic, they may be more at risk of catching measles if they aren't vaccinated. People at risk are those who have not had two doses of the Measles, Mumps and Rubella (MMR) vaccine, or haven't had the infection before.
The Wandsworth Director of Public Health, Shannon Katiyo (pictured right), is urging parents to make sure their child gets the vaccine. He said: "Measles can represent a serious health risk to children. The NHS continues to provide routine childhood immunisations, including the MMR vaccine".
You need to check your child's red book or the NHS App now, in case they have not yet received 2 doses of the MMR vaccine or if you are unsure, please contact your GP or practice nurse as soon as possible, to ensure they are vaccinated.
The MMR vaccine is included in the national routine immunisation schedule, and it is a safe and effective vaccine against measles, mumps and rubella. To ensure full protection, two doses are administered to babies and young children with the first dose at one year and the second dose from 18 months or before a child starts school. MMR vaccination ensures that the child and those around them are protected.
If your child has missed vaccination, please contact your GP practice and book an appointment. Visit nhs.uk/MMR to find out more about the vaccine.