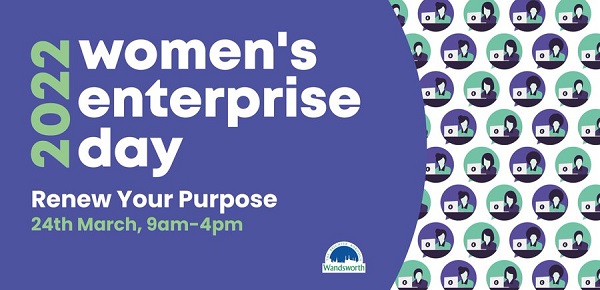 Book your place now for an event celebrating Wandsworth's female entrepreneurs.  
Now in its eighth year, the event on March 24 will feature a panel discussion, motivational talks, an interview with one of Britain's most successful entrepreneurs, interactive workshops and a networking lunch.  
The event will also see the launch of the Wandsworth Enterprise Women's Awards, celebrating stand-out founders in the Entrepreneur of the Year, Best Contribution to the Community and Rising Star categories. 
The event was created to provide female entrepreneurs in the borough with access to business advice and support, as well as the opportunity to connect and build networks with like-minded women.  This year's event is being held in person, following an online event last year.  
Top female entrepreneurs and experts include Jacqueline Gold CBE, CEO of Ann Summers, Kate Bassett from the Financial Times and  Gemma Greaves, co-founder of Nurture.
Local entrepreneurs Sam Ubhi, Gomolemo Shirley and Elisa Peloni will be revealing their successes and setbacks and the valuable lessons they have learnt on the way.  
Deputy council leader Cllr Kim Caddy will be attending the event. She said: "I'm proud to be going along to Women's Enterprise Day to show the council's support for our fantastic female entrepreneurs. It's a great way for women to get tips on how to use their energy, talent and experience to succeed in business. I look forward to meeting everyone there."
Wandsworth Council's business, skills and employment spokesman Cllr Rhodri Morgan said: "It's great that we can all meet in person again and I'm excited that so many brilliant businesswomen are taking part and sharing their knowledge and experience.  
"The last couple of years have been challenging, but I know we have some fantastically ambitious and creative entrepreneurs in Wandsworth. Come along, learn from the experts and make your vision a reality.  
"This is just part of a wide package of support we offer to entrepreneurs, start-ups and SMEs in the borough, so please get in touch and see how we can help you." 
Find out more and book your place on Women's Enterprise Day
Nominate someone for a Wandsworth Enterprise Women's Award 
Find out about other support available to Wandsworth businesses.