Polio booster for all London children aged 1 to 9
Published: Friday, August 12, 2022
All children aged 1 to 9 years in London are being offered a polio vaccination. This comes following the recommendation by the Joint Committee on Vaccination and Immunisation (JCVI).  The NHS will contact you to ask you to book an appointment for your child's polio vaccine.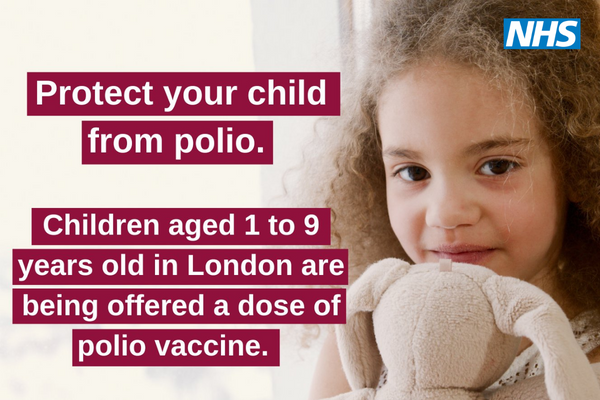 Type 2 vaccine-derived poliovirus has been found in sewage in north and east London, and whilst no one has been diagnosed with polio and the risk to the UK population is low, the booster will ensure a high level of protection from paralysis and will help prevent further spread of the virus. For some children, this may be an extra dose on top of their routine vaccinations. In other children, it may bring them up to date with their routine vaccinations. The vaccine being used is the same inactivated poliovirus vaccine as normally given as part of the standard polio immunisation schedule. This is the only vaccine used against polio in the UK.  
The vaccination programme will initially begin in affected areas in north and east London where the poliovirus has been detected and vaccination rates are low. This will be followed by a rapid rollout across all boroughs. It is not yet clear when the vaccination programme will reach the residents of Wandsworth. Please do not contact health services regarding the polio booster as the NHS staff are extremely busy setting up the vaccination programme. You will be contacted as soon as the vaccine is ready for your child. 
In the meantime, parents and carers of 1- to 9-year-olds are urged to check their children's polio vaccination status via their Red Book. It is important all children aged 1 to 9, even if up to date with their vaccinations, accept this vaccine when offered to further strengthen their protection against the poliovirus. 
For more information on Polio, visit the NHS webpage. 
Shannon Katiyo, Director of Public Health at Wandsworth Council, said: 
"We will be working closely with the NHS to ensure the smooth delivery of the polio vaccine booster programme in Wandsworth. While Polio is a serious infection that can cause paralysis, the polio virus found in London should not pose any risk to those who are fully vaccinated. However, whilst it is spreading, there is a small chance that those who have not been fully vaccinated, or those who cannot respond well to vaccines, could be at risk of catching polio.  
We want to act now to protect as many children as we can so, please come forward when you are invited."