New playground on the Winstanley and York Road estate is officially opened
Published: Monday, August 1, 2022
Last week, the Leader of Wandsworth Council, Councillor Simon Hogg, was joined by Councillor Kate Stock, Cabinet Member for Children, to mark the official opening of new play facilities in York Gardens South.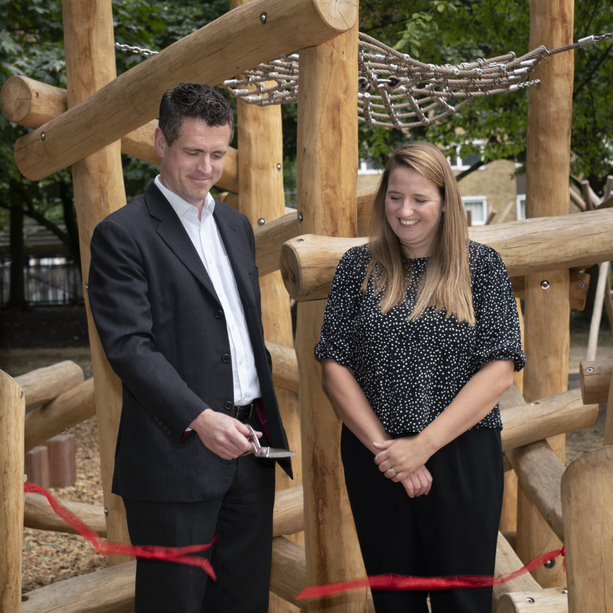 The councillors were joined by council officers to celebrate the official opening of the playground. These improvements will cater for all ages and provide a diversity of play experiences and development of skills, offering play for children of all abilities.
Outside of the main Woodland Play Area, there is also new fitness equipment and relocated table tennis tables offering play and exercise opportunities for older children.
Councillor Simon Hogg, Leader of Wandsworth Council, said:
"I am really pleased to see this fantastic new playground being delivered early on in the lifespan of the Winstanley and York Road Estate regeneration project as a sign of our commitment to residents, not only to delivering new and improved housing but also to improving community facilities."
Councillor Kate Stock, Cabinet Member for Children, added:
"This is a very welcome addition to the area. It is important that when the council undertakes large development projects such as this that consideration is given, not just to building homes, but also to how we can deliver the maximum benefit to the community and, in particular, young people."
Councillors Hogg and Stock also took the time to visit the site of the next block of council homes on the Winstanley and York Road regeneration site, where work is currently underway.
The new block, currently known as Block 5, will provide 126 council homes including 13 wheelchair units. All units will be built to high modern standard and all homes contain fully adaptable bathrooms to cater for residents' changing needs. These homes will rehouse existing secure tenants currently residing in Scholey House, Jackson House and Kiloh Court from the Winstanley and York Road estate as well as providing additional general needs housing for the Council.