Council demolishes two illegal shopfront extensions from Tooting's busy shopping parades
Published: Friday, August 5, 2022
The council has removed "ugly and unauthorised" shopfront extensions which had been built without planning permission and drastically reduced pedestrian space in two of Tooting's busiest shopping areas.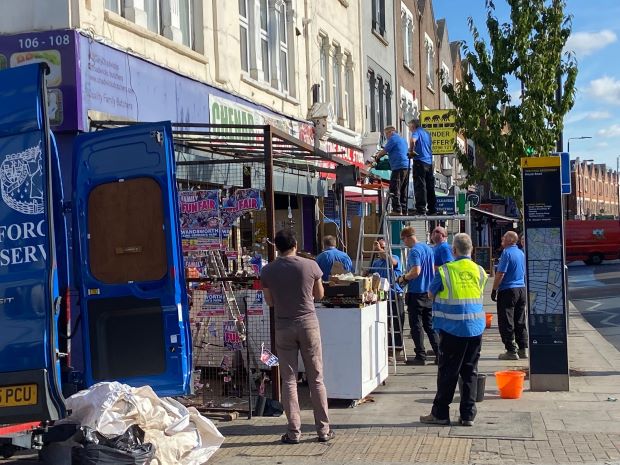 The unauthorised structures were removed yesterday morning (Thursday) after the owners of the two businesses – at 85 Mitcham Road and at 106-108 Tooting High Street - failed to comply with enforcement notices requiring their removal.
Because the owners failed to act, the council has demolished the unauthorised structures and will now be charging the business owners the cost of the operation. If they don't pay they will face further legal action.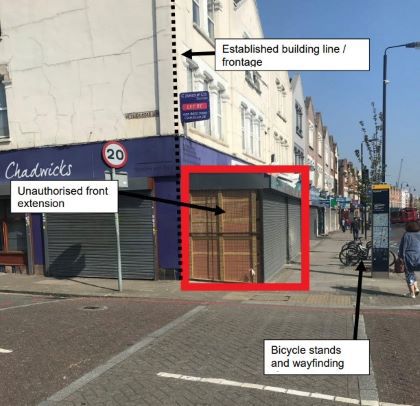 How the Tooting High Street extension limited pedestrian space 
The council used enforcement powers under the Town and Country Act to remove the illegal extensions which had been crudely constructed out of sub-standard materials, encroached into pedestrian space, disrupted the building line of neighbouring shops and businesses and were visually damaging to the streetscene.
The owners were asked to voluntarily remove these illegal extensions and were repeatedly warned the council would do the job so if they did not – but these warnings were ignored.
Planning applications chairman Cllr Tony Belton said: "These business owners thought the rules didn't apply to them and that they could ride roughshod over the planning system. They built badly designed, poorly constructed and frankly ugly extensions that made it hard for people to pass each other on the pavement. Tooting deserves better than this!
"What this enforcement action demonstrates is that people who think they can get away with flouting planning laws will not escape our attention and we will take action to tackle unauthorised and illegal extensions.
"The upshot of this for the shopkeepers in this case is that they have been hit in the pocket by a double whammy. Not only did they have the cost of building these structures in the first place they will now have to stump up the council's costs of removing them."