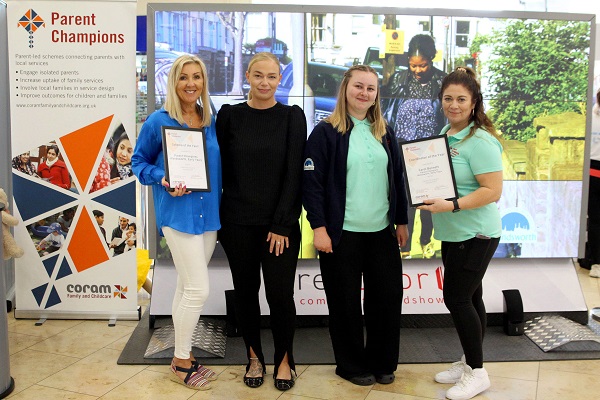 They won Parent Champion Scheme of the Year in the Coram Family and Childcare annual Parent Champion awards 2022.  Team co-ordinator Carol Bennett won Parent Champion Coordinator of the year.
Parent champions work across the borough to spread information about services available to local families with young children. Wandsworth Council launched its scheme earlier this year in partnership with Coram Early Years and Childcare and the National Lottery.
Parent Champions are volunteers who use their experiences as a parent or carer, and their love of chatting to other parents, to visit children's centres and other community venues and talk about early years services in the borough. They are fully trained and receive ongoing support.
The council's spokesperson for children, Cllr Kate Stock, said: "We really value our parent champions and I'm proud their efforts have already been recognised at a national level.
"They are an important part of our work to get out into the heart of local communities and work in partnership with families to make sure all young people get the best start in life. They help us really hear what parents and children are telling us so that we can provide them with services they want and need."
Services available to Wandsworth families with young children include funded childcare.  Families with children aged two who meet eligibility criteria are entitled to a maximum of 15 hours a week of funded early education. Eligible working parents of three and four year olds attending a nursery or childminder can get an additional 15 hours of funded child care. There is also a wide range of services and support available at the borough's children's centres, including targeted play sessions, health visitors, speech and language therapies and mental health support.  If you would like to hear more about Early Years Parent Champions, fill in this contact form.