V2 rocket - Green Plaque site
About V2 rocket - Green Plaque site
At 8.31am on Sunday 19 November 1944, a V2 rocket landed on Hazelhurst Road. At least thirty five people were killed and over one hundred injured. It was one of the most devastating bombing incidents in the Borough of Wandsworth during the Second World War. In Hazelhurst Road, the oldest victim was 92. Among the dead were 14 children including two small babies. Fifty properties were completely destroyed.
The plaque is a tribute to the people of this neighbourhood, families who had lived in the area for a generation or more. Hazelhurst and Foss Roads had already contributed twenty-four names out of the 182 names on the First World War memorial in St Mary's Church.
Location: Sutton Courtenay House, Hazelhurst Road, SW17.
Unveiled: 6 June 2015.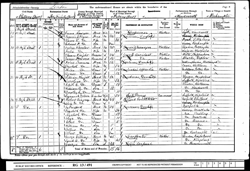 Contact
Send details of a suggestion for a Green Plaque to the panel
Email: wandsworth.libraries@gll.org