King's Hall Picture Palace - Green Plaque site
About King's Hall Picture Palace - Green Plaque site
Opening on the 30 January 1909, King's Hall is thought to be the first purpose built cinema in Britain. It is known that the second cinema to open in Tooting was the Central Hall Picture Palace on 14 October 1910.
The original seating capacity was given as 850 which could have included bench seating where patrons were squeezed in. In the early days it was operated by John Thomas Hallinan and by 1918 J S Holland was the licencee. In late 1921 ownership had passed on to Messrs Konskier, Flatto & Woolfe who gave the cinema a new name, the Gaiety Picture House. Mr S Schulman took over the operation in around 1928 and it was renamed Regent Cinema. Variety acts were advertised as part of the programme in 1931. William Hinds took over around 1933 and by 1937 it was listed in that year's edition of the Kinematograph Yearbook as Closed.
This was only for a short period as Alexander de R S Redmond reopened the Regent Cinema in around 1938. It continued to operate through the war years, finally closing as a cinema in 1946.
The building became a confectionery store (possibly using the foyer area only) and in later years this low single storey entrance area was demolished and the remaining auditorium was in use as a car salesroom. It was demolished in September/October 2013 to make way for a mixed commercial and residential development.
Location: 181-183 Tooting High Street.
Unveiled: February 2016.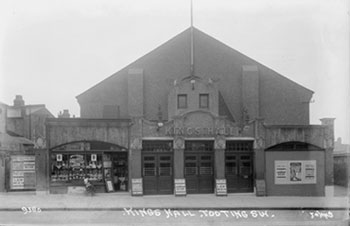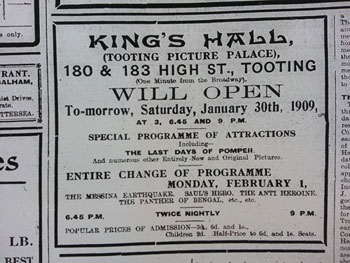 Contact
Send details of a suggestion for a Green Plaque to the panel
Email: wandsworth.libraries@gll.org