Private Albert Reginald Twyford (1901 – 1916) - Green Plaque site
About Private Albert Reginald Twyford (1901 – 1916) - Green Plaque site
Killed in action in France on 8 August 1916 aged only 15 he served in 13th (Service) Battalion (Wandsworth) East Surrey Regiment.
Born 8 February 1901 at 8 High Street, Roehampton; his father was John Twyford and his mother Elizabeth née Collins. His father's profession was gardener (domestic servant).
Somehow, 'young Reggie' succeeded in concealing his true age when he was among the first to volunteer, at the age of just 14, for his local battalion in 1915. Although not engaged in any major actions, Reginald's battalion was nevertheless exposed to considerable danger while holding the front-line trenches.
Enemy shelling on 8 August 1916, caused ten men to be wounded and five killed.  All were subsequently buried in the Philosophe British War Cemetary on the outskirts of the nearby village of Mazingarbe.
Of those killed on 8 August one is recorded in Plot I B 26 as:
Pte. Reginald Albert Twyford, 13064.  'A' company, 13th Bn. East Surrey Regiment. Killed in action 8.8.16. Age 15. Son of John William Twyford, 70 Merton Road, Wandsworth
Tragically his great adventure came to a tragic end just two months after arriving in France .
Location: 8 Roehampton High Street, SW15.
Unveiled: 11 November 2011.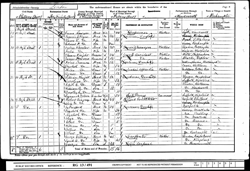 Contact
Send details of a suggestion for a Green Plaque to the panel
Email: wandsworth.libraries@gll.org