Apprenticeships case studies
Keith, Billy and Ben have been working as apprentices on development schemes in Nine Elms. Here is their story.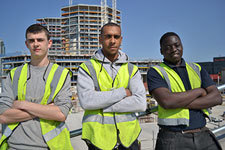 Keith Sserwadda
Age: 20
Role: Dryline Apprentice
Site: Riverlight (St James)
"The best thing for me is picking up more and more skills each day. I would 100 per cent recommend construction to other people and there are loads of opportunities in Nine Elms. It is a good environment to work in with lots of lively people."
Billy Mohan
Age: 23
Role: Cladding Apprentice
Site: Riverlight (St James)
"If you like hands-on, practical work then this is a great role. Since starting on site I have picked up a range of new skills and been involved with other trades like glazing, window fitting and curtain walling. I have also been given extra training like leading edge (working at height), first aid and banksman."
Ben Cook
Age: 25
Role: Chain person (engineering)
Site: Embassy Gardens (Ballymore)
"I got this job through Wandsworth Work Match. I gave the team my CV and they called me into their office to go through it and talk about the type of job I wanted. The first job I went for didn't work out but a couple of days later they got me an interview with Ballymore and I was successful."