Winstanley and York Road Demolition Phase 2
Block 6
Block 6 will be the first of the courtyard blocks to be built. It will comprise a mix of new build council housing and private housing in a mansion block design, located off Wye Street to the west of Falconbrook Primary School.
The proposed designs for Block 6 reference historical London mansion blocks, such as those seen locally on Prince of Wales Drive (opposite Battersea Park). The mansion block will form the basis of common design principles that will be shared between other blocks across the masterplan, with the aspiration of creating a coherent townscape.
Block 6 will be home to residents from Arthur Newton House, Baker House and some from Holcroft House moving within Demolition Phase 2.
Key aims
Streets activated with multiple entrances
All communal entrances have views to the park
Raised ground floor provides natural privacy
Terraced courtyard negotiates level change, provides natural subdivision of private and communal amenity areas
Views into communal courtyard from street
Naturally lit cores with views into the courtyard
Maximise dual-aspect/through living spaces orientated towards the streets
Balconies positioned to capture views of the park
Example of 3-bedroom flat (social rent and resident leaseholder reprovided homes) 86m2
Features of these flats:
Dual-aspect flat
Views to the park as you enter the living spaces
Semi-recessed balcony for privacy
Inverted bay window provides multiple views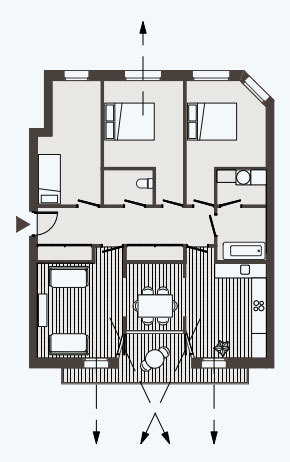 Example of 1-bedroom flat (private tenure) 50m2
Features:
Views to the park from the balcony 
Well proportioned living spaces 
Semi-recessed balcony for privacy 
Inverted bay window provides multiple views