Ceremonies in the Victoria Room
Customer notice
In response to the Coronavirus (Covid-19) pandemic and following advice from Government, all non-essential face to face registration and ceremonial services have been suspended until further notice. We are sorry for the disappointment and inconvenience this will cause and will rebook as soon as possible.  The safety of our customers, community and staff is our first priority, and our principal focus is to ensure we are able to continue the essential work of registering deaths during the crisis.        
The Victoria Room accommodates up to 25 people.
The rich red theme and magnificent original art deco conference table provide a fine setting for your ceremony.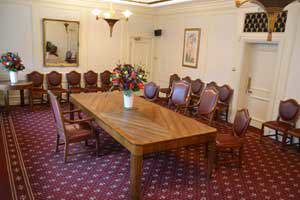 Capacity
Fee
Weekdays: £160 plus £11 per certificate
Saturdays: £185 plus £11 per certificate
Sunday/Bank Holidays: n/a
Prices valid 1 April 2020 to 31 March 2021.
Fee includes
Choice of ceremony
Choice of music (we can play CDs, USB sticks and MP3 players)
Personal vows
A reading
Please note this room does not have an aisle.
Important information
If giving notice for a ceremony in this room the venue must be recorded as:
 'The Town Hall, Wandsworth High Street, London'
Notices bearing the incorrect description will not be valid and will need to be amended or given again.
Paying
A non-refundable deposit is required at the time of booking. Full payment must be made no later than 2 months before the ceremony. If bookings are made within 2 months of the ceremony the fee must be paid in full at the time of booking. The Register Office reserves the right to cancel a ceremony if payment has not been received.