Battersea Park, 
London, 
SW11 4NJ
About Pump House Gallery
Getting married or forming a civil partnership in the middle of Battersea Park certainly is an unusual venue for a ceremony.
This converted pump house beside the boating lake offers a very attractive location for the small intimate ceremony. The staff who operate the Pump House are always highly praised for their quality of customer care.
Apart from the Pump House itself, the park offers a multiplicity of photo opportunities for your album.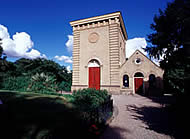 Contact
Email: pumphouse@wandsworth.gov.uk
Phone: 020 7350 0523
Website: http://www.pumphousegallery.org.uk
Address:
Battersea Park, 
London, 
SW11 4NJ