Low Traffic Neighbourhoods: Trial Update
Published: Thursday, September 3, 2020
Wandsworth Council has introduced a number of Low Traffic Neighbourhood (LTN) trials across the borough.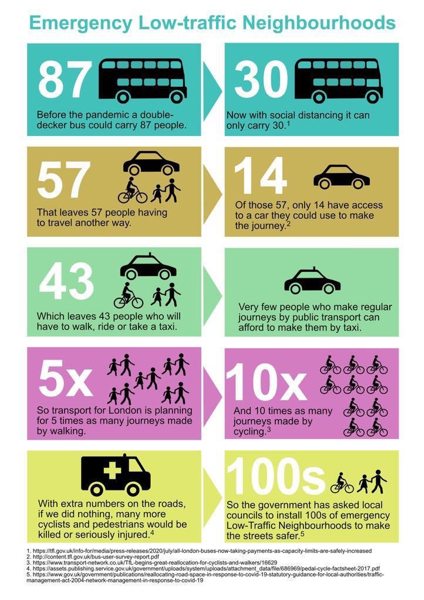 These are designed to make residential streets much more pedestrian and cycle friendly whilst deterring cut-through traffic.
The changes are part of the council's response to the Coronavirus pandemic and the need to free up additional space on our highways in support of social distancing, as well as encouraging alternative forms of travel.
At the same time Transport for London (TfL) has brought in a series of measures on some of the major roads it manages in the borough. This includes the A24 running along Balham High Road to Tooting High Street and beyond.
With TfL installing cordoned off and protected cycle lanes in both directions on main trunk roads, many  side streets would have been turned into major rat runs by drivers hoping to avoid hold ups in areas like Tooting High Street and the Upper Tooting Road. It is hoped that the council's LTNs can help prevent that happening, taking traffic away from residential streets.
After discussions with locally elected councillors in each of the relevant wards, LTN trials were introduced from August 17 on a temporary trial basis so that their effectiveness can be closely monitored and evaluated.
Feedback from local residents will be key in determining if these pilot schemes are to be retained or withdrawn.
A council spokesman said: "We are grateful to everyone who has been in touch to comment on the schemes so far. The response has been very helpful and informative. This has helped us identify and respond to initial problems, particularly those where the A24 changes and LTNs interact.
"We are working with the emergency services, Transport for London and local ward councillors to address the issues that have been raised. Based on their feedback we have already made a number of changes intended to improve the LTN schemes. These include getting retractable barriers installed for emergency vehicles to negotiate.
"We have learnt a lot in the first few days and we are still monitoring traffic changes closely. These are temporary pilot schemes only so we will be gathering evidence in the coming weeks and listening closely to what local people tell us about their pros and cons. Their feedback will be crucial in determining what happens next."
The public consultation on LTNs is now underway. To register your views please visit www.wandsworth.gov.uk/consultations.
To have your say on the TFL streetscape programme please visit https://consultations.tfl.gov.uk/general/streetspace/