Housing for All programme delivers new homes at Haine Court in memory of WW1 hero
Published: Monday, September 21, 2020
One of Britain's bravest World War I heroes has been honoured by having a block of flats named after him in Wandsworth.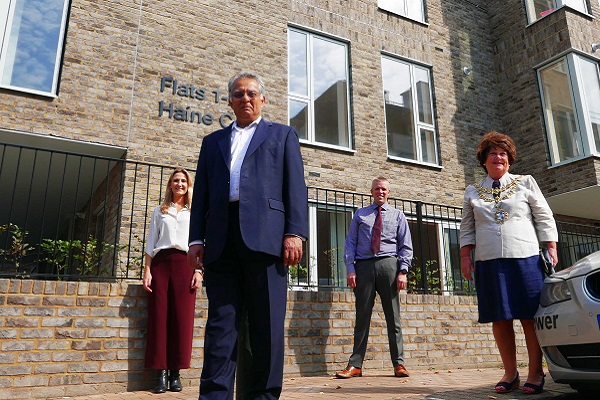 Wandsworth Council leader Cllr Ravi Govindia opened the new housing development in Nine Elms as part of the Housing for All programme in memory of local WW1 hero, 2nd Lt Reginald Haine, formerly of Wilna Road, Earlsfield.
Cllr Govindia joined Mayor of Wandsworth, Cllr Jane Cooper and Cabinet Member for Housing Cllr Kim Caddy, to mark the completion of Haine Court, in Deeley Road, Queenstown. The site is part of a programme to deliver 1,000 homes for residents and local workers.
2nd Lt Haine, serving in the Honourable Artillery Company, was a young officer in April 1917 when he led multiple counter attacks against a larger German force in northern France, seizing enemy ground and prisoners.
Speaking at the event, Cllr Govindia said: "I'm so pleased to be here today to celebrate the bravery of a local war hero at the completion of yet more low cost rent council housing in Wandsworth.
"I am certain the family of 2nd Lt Haine will be as proud as I am to see a local citizen being honoured in this way for so many years of service to their country.
"Through the provision of these much needed new council homes, the name of one of Wandsworth bravest sons will live on and be recognized for the inspirational and personal contribution they have made to the greater good.
"This new social housing, along with two other schemes developed in the area, also demonstrates our absolute commitment to build 1,000 new homes under our Housing for All programme. We want to create a borough where everyone can make a home, no matter what stage their life is at."
Haine Court includes 20 residential homes made up of 3 x 3-bed maisonettes, 1 x 2-bed maisonette, 6 x 1-bed flats, 8 x 2-bed flats and 2 x 3-bed flats. All will be prioritized for local residents to rent.
Cllr Govindia added: "Our Housing for All programme is well on the way to delivering 1,000 new homes. We remain confident of reaching our targets despite the challenges of the recent pandemic."
Families said they were delighted with the new homes provided at Haine Court, SW8.
Shakoor Saeed said: "Our family has lived on this estate since 1998 and we really didn't want to have to leave. My mum needed a ground floor flat for her health and the council was able to find us a place in Haines Court which means we didn't have to move away and we are nearer to my sister. We are delighted with our new flat. It has outdoor space and is spacious. The council has been really helpful."
The developer on Haine Court was Glenman Corporation Ltd.