Civic Awards for community champions
Published: Wednesday, November 13, 2019
The winners of the 2019 Wandsworth Civic Awards were announced at a special awards ceremony at the Civic Suite last night.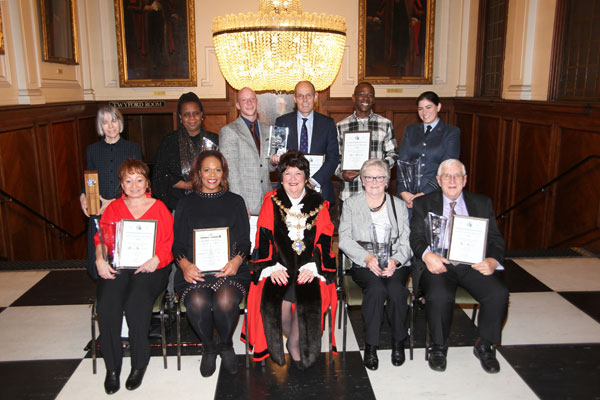 The Mayor of Wandsworth hosts the annual award ceremony to shine a spotlight on people who make fantastic contributions to day-to-day life in the borough. This year more nominations were received than ever before.
Eight awards were given to people and teams from across Wandsworth, recognising the commitment they have made to helping others, supporting local charities and strengthening their local neighbourhoods.
Entertainment on the night was provided by the Putney and Wimbledon Brass Band and Wandsworth Young Musician of the Year, saxophonist Freya Lockeretz.
Wandsworth Mayor, Cllr Jane Cooper, said: "The Wandsworth Civic Awards are a chance to recognise the many community champions that work so tirelessly all around us – those who give so much to our borough and often for so little in return. All of us in Wandsworth are deeply grateful to each and every one of our winners."
The recipients of a 2019 Civic Award were:
Mitzi Hassani:
Mitzi runs the charity shop Embrace which has become a local hub for those in need. All the money raised is used to support local people and projects in Battersea. The shop is a kind of 'drop-in centre' for people to have a chat and get advice, and Mitzi also runs events to help people get together, including a Christmas lunch.
Marlene Irons:
Marlene works tirelessly for the Battersea Crime Prevention Panel, including running the annual fundraising Battersea Ball and fundraising for the Battersea Summer Scheme for young people. She is also a dedicated Neighbourhood Watch co-ordinator.
Good Guys Decorating:
This community-focused painting and decorating business uses part of the profits of their decorating work to paint the bedrooms of children living in poverty or those suffering with mental health issues free of charge, whilst also educating them on how to maintain their property. It was set up by Cyle Carth and Nick Lynch who, with the help of Carney's Community, overcame major challenges in their own lives and now want to give something back to the local community. 
Ron Elam:
Before he retired this summer, Ron served as a school governor in several Wandsworth schools for 50 years, most recently at Chesterton where he made a valuable contribution. In addition he has sat on and chaired independent admissions and exclusions appeal panels in Wandsworth and has participated in some 300 Ofsted inspections.
Karen Horsford:
Karen won an award for the work she has done with Putney and Roehampton Boxing Club, which is making a real difference to the lives of young people from across the borough. The Boxing Club mentors the younger boxers in the dangers of carrying knives, as well as undertaking healthy eating and well-being programme.
Flt Lt Charlotte Fishman:
Charlotte was recognised for the positive impact she has made to life in Wandsworth over the past ten years working with the borough's three squadrons of the Royal Airforce Air Cadets and helping young people from all walks of life access the opportunities the cadets offer.
S.T.O.R.M:
STORM won a group award for their efforts to empower single mums, young people and adults to re-build their confidence and help them back into employment and education. It also runs a thriving youth club, including trips out and homework support. In the last 15 years it has helped thousands of people.
The Wandsworth Tree Wardens:
The wardens, an independent group of volunteers, won the new Environmental Category for their efforts to conserve, protect and improve the environment through the planting, care, nurture and cultivation of trees across Wandsworth.
Find out more about the Civic Awards at www.wandsworth.gov.uk/civicawards