We're making it easier for you to recycle
Published: Friday, September 3, 2021
The council is introducing some changes to how it collects recycling from resident's doorsteps to try and make it easier for local people to recycle more of their household waste.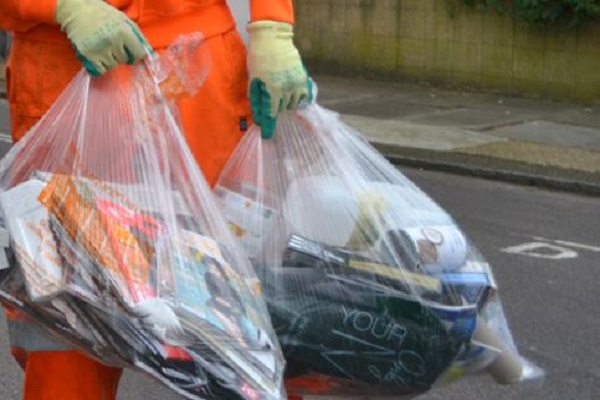 From now on residents whose homes are covered by the borough's clear sack recycling scheme will not need to place bulky cardboard inside sacks. As long as the cardboard is flattened, dry and neatly stacked alongside people's other recycling and general waste – it will be collected. Residents are requested to avoid leaving cardboard out for extended periods in the rain, as it will not be possible to collect if it is too wet.
The council is also telling residents that other types of recycling can be left in any clear and transparent sack. They do not need to be ones issued by the council.
The changes are being made as the result of a number of factors.
Firstly, the amount of waste and recycling left out by households since the pandemic began has increased significantly – meaning residents are using and needing more recycling sacks than ever.
And secondly, with covid infections resulting in staff shortages for our contractor, combined with a nationwide shortage of lorry drivers and agency replacements, the normal distribution schedule of clear sacks has been affected.
Environment spokesman Cllr Steffi Sutters said: "The pandemic along with other factors has led to some challenges for waste and recycling collections.
"Not only has the absence of lorry drivers disrupted collections, it has also affected the distribution of clear sacks.
"The situation has meant that the remaining resources have been diverted to the collection of black bag waste which is a priority for health and nuisance reasons.
"We are in the process of delivering fresh stocks of recycling sacks to every eligible household, but in the meantime, if people want to use other clear coloured sacks for their recycling this is fine, as is leaving out bulky cardboard unbagged."
Around 80,000 homes are covered by the clear sack doorstep scheme, while approximately 65,000 high rise properties with communal waste facilities are able to use the communal recycling banks located at their housing blocks.
Clear sacks need to be used so that collection staff can see if the contents have been contaminated or not. It is not uncommon to find food waste, dirty nappies and other unrecyclable items inside clear sacks.
For more information please visit the council's website.