Wandsworth young sporting heroes
Published: Tuesday, September 28, 2021
Wandsworth's young athletes have struck gold at this year's London Youth Games.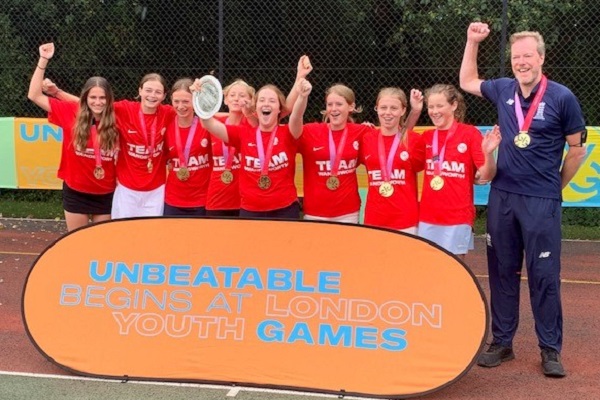 The 2021 contest saw the return to outdoor sporting competition across London's 33 boroughs. Thirteen sports including Sailing, BMX and Road Cycling pitted Wandsworth against other London boroughs in a welcome and safe return to youth sports competition.
The reduced calendar of events meant there was no overall winner this year, but Wandsworth still snagged a wide range of medals.
At one of the final events, Barn Elms Sports Centre hosted the Central Hub region competition. Across the course of the weekend Wandsworth triumphed at the Male and Female Beach Volleyball competition, as well as winning the overall crown in Netball, Girls' Street Cricket and Boys' Hockey. Barn Elms is one of just a handful of sports centres in London to have a beach volleyball court. 
The gold rush followed victories earlier in the summer by the Tennis and Archery teams, along with and silver medals in Girls' Hockey and bronze in Girls' Football.
Boys' hockey
Meanwhile students from Garratt Park School took part in track and field competitions at the Para Athletics competition.
Team organisers Kaity Hall and Peter Freeman said: "We are so pleased to see young people accessing sport once again and being active. Over 100 young people have represented the borough this year and they continue to amaze us with their standards of play as well as their resilience considering what has happened in the past 18 months. We are really proud of all their achievements."
Cllr Steffi Sutters, the council's cabinet member for community services and open spaces, said "It's wonderful that our young people have been able to show us what they can do. Their success not only reflects well on them but also on all our sports clubs, coaches, training programmes and fantastic range of sports facilities." 
Wandsworth sports development service is delivered on behalf of Wandsworth Council by Enable Leisure and Culture. Find out more at enablelc.org/leisure.