Town hall ceremony salutes the borough's blue light emergency services
Published: Thursday, September 9, 2021
The Mayor of Wandsworth Cllr Richard Field today (Thursday) welcomed senior representatives from the borough's blue light emergency services to the town hall to honour their invaluable contribution to the safety and wellbeing of residents and businesses as part of celebrations marking Emergency Services Day.
As Councillor Field greeted senior staff from the police, fire brigade, ambulance service and NHS to a simple ceremony honouring their vital role in public life, the Emergency Services Day flag was hoisted to fly above the town hall in recognition of their services.
Cllr Field said: "I was honoured and privileged to host this event at the town hall in support of our emergency services, recognising the vital role they play in the day to day life of the borough.
"This recognition has never been more important than now in the wake of the pandemic. Despite the threat of Covid our blue light personnel have continued to serve the public often putting their own health and welfare at risk to protect and serve our residents.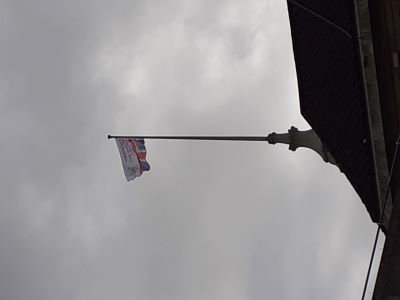 "Our thanks and praise goes out to the brave police, firefighters, doctors, nurses, ambulance staff and those who volunteer in lifeboats who all work so tirelessly to keep us safe and well."
Thursday, September 9th has been designated the UK's Emergency Services Day, an annual event in honour of the almost two million people who work in the blue light emergency services, and in particular the 250,000 first responders – those who react immediately upon receipt of a 999 call.
The event offers ordinary people the chance to show their support for the nation's NHS and emergency services heroes. It is also an opportunity for 999 charities to fundraise and an opportunity for all the emergency services to engage with the communities they serve.
This national event was founded in 2016 and is supported by Her Majesty The Queen, Their Royal Highnesses The Prince of Wales and the Duke of Cambridge, the Prime Minister and First Ministers of Northern Ireland, Scotland and Wales.
999 Day is supported by the National Police Chiefs' Council, the National Fire Chiefs' Council, Association of Ambulance Chief Executives, the NHS, Maritime and Coastguard Agency and all Search and Rescue organisations across the UK.