Tooting's new 'pocket park' officially open
Published: Tuesday, September 7, 2021
The Mayor of Wandsworth Cllr Richard Field has today (Tuesday) officially opened Tooting's new neighbourhood pocket park.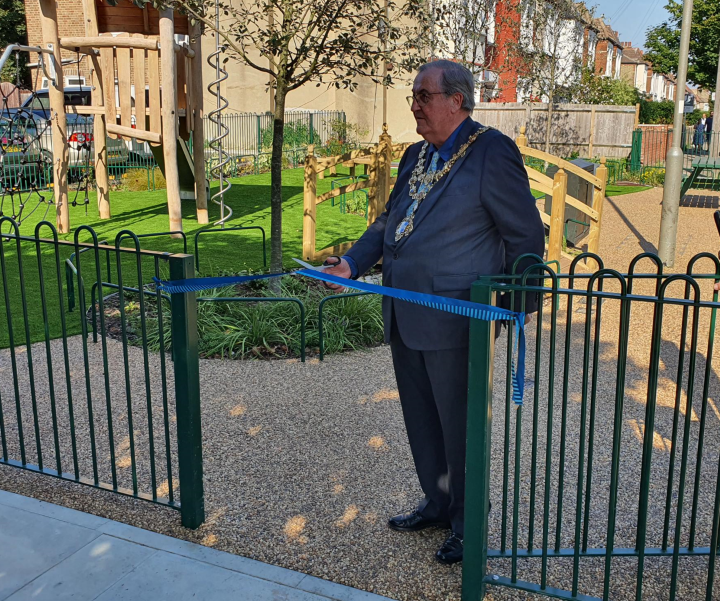 The new community space has been opened on the edge of the Gravenel Gardens estate in Mellison Road, opposite the junction with Himley Road.
It covers 240 square metres and replaces a fenced off area that was home to some unkempt shrubbery and land previously used a car park.
With the tarmac removed, the space now boasts new trees, shrubs, bench seating, a picnic area, bike parking and play equipment for younger residents. Soft surfacing has been installed around the new play equipment to encourage children of all ages to enjoy the space.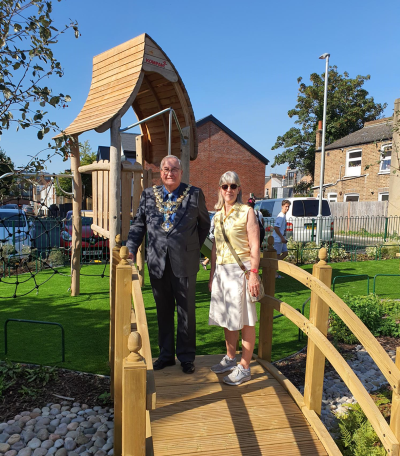 The design also incorporates a rain garden to maximise the amount of surface water that can drain into the subsoil and relieve pressure on the local sewer network to reduce flood risk. Grasses and wildflowers have also been planted in the rain garden to enhance biodiversity and to filter pollutants from surface rainwater.
And to ensure it offers visitors improved peace, tranquility and better air quality, this short stretch of Mellison Road is now one way only to traffic, but with a cycle contraflow system to encourage cycling. Walking has also been supported by the creation of a wider footpath adjacent to the park.
The council's cabinet member for strategic planning and transport Cllr John Locker said: "This is a really welcome environmental initiative that has seen the removal of tarmac and its replacement with trees and shrubs. It is now the perfect spot for a new, welcoming and greener community space.
"It has the potential to be a wonderful little green oasis, providing local people with a place to relax and unwind and hold community events, while installing play equipment here is great news for young people and their parents and provides a real focal point for families in the area."