Support to help you travel car-free
Published: Friday, September 17, 2021
This Car Free Day Wandsworth residents are being encouraged to find out about the support on offer to help them choose active travel.   
On the day itself, (September 22) a free Dr Bike maintenance session has been organised by the council in Old York Road, Wandsworth Town between 10am and 4pm. This will be followed by a session on Saturday September 25 in Bedford Hill, Balham from 10am to 2pm. Go along to get your bike checked to make sure it is safe and roadworthy.   
Both these streets are part of the trial pedestrianisation of popular shopping streets in a bid to increase visitors numbers and boost local businesses by offering a pleasant, car free atmosphere in which to eat, drink and shop.  
Other support for cyclists includes free cycle training for adults and children and cycle storage hangars installed around the borough.  The council has recently announced a further 111 bike hangars in 74 locations, in addition to the existing schemes plus hangars on housing estates. Find out how to apply for a bike hangar space.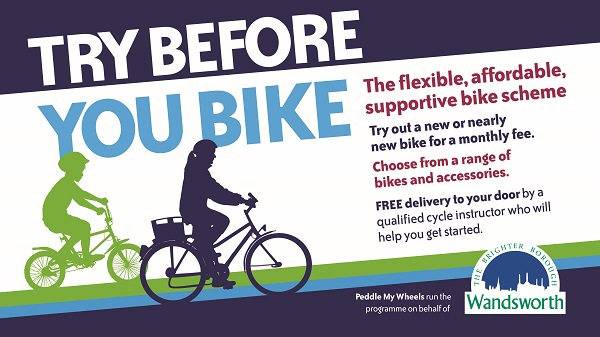 If you are thinking about cycling, but are not sure whether to take the plunge, the Try Before You Bike Scheme is a chance to trial a new or nearly-new bike for a monthly fee and includes electric bikes, folding bikes and cargo bikes. The council is working with Peddle My Wheels to offer the scheme. If you like the bike, you can buy it at a reduced price, take out an interest-free monthly payment plan or buy through the Cycle to Work Scheme. Lights, lock and helmet are included.  
The council has already provided several local businesses and organisations with Cargo Bikes funded by the Energy Saving Trust. It is now inviting new bids for funding as well as developing a shared e-Cargo Bike scheme, ideal for businesses and organisations who would like a cargo bike but have concerns about storage space, training or maintenance. To express your interest email transportation@wandsworth.gov.uk.  
The council also works with local schools to introduce school streets, with a fourth wave of streets in the pipeline. School streets mean roads outside schools are closed to traffic during pick up and drop off time.   
Cabinet member for Transport Cllr John Locker said: "Car Free Day is a great chance to remind people that in Wandsworth there are so many opportunities to get around using alternative forms of transport. Encouraging active travel like walking and cycling is a key part of the Wandsworth Environment and Sustainability Strategy which sets out how we will meet the challenge of the climate crisis.   
"And of course we have been working for years to bring the Northern line to the borough to further widen car-free options for our residents. We are excited that two new tube stations in Battersea and Nine Elms have opened to passengers this week to closely coincide with Car Free Day."