Prizes for young history stars
Published: Monday, September 27, 2021
Five student history investigators have won £100 each for their projects exploring the theme of 'home' in this year's Wandsworth/GLL Heritage Awards for Schools competition.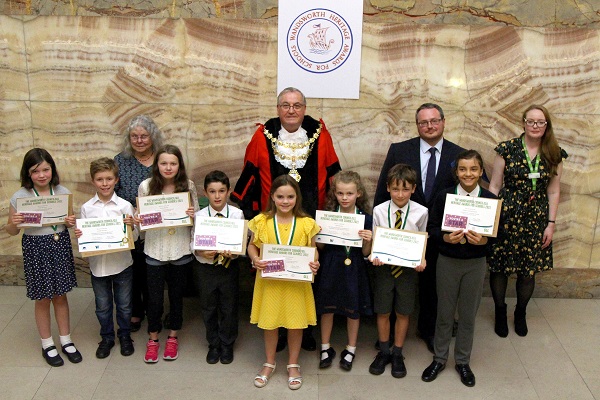 Now in its sixth year, the competition is run in partnership by the council and library and heritage contractor GLL. It aims to give students a chance to explore local history, get a sense of belonging, have fun and learn more about the how Wandsworth residents lived in the past.  
Entries included written and filmed work alongside pieces of artwork, with young people pulling together information from a range of source they researched by visiting the Wandsworth Heritage Service archives, online research and original literary or artistic work.
The theme mirrored this year's Wandsworth Heritage Festival, which focussed on 'home' - a place in which everyone has spent a great deal of time during the pandemic. 
The Mayor of Wandsworth, Cllr Richard Field, originator of the competition and chairman of the judges, presented the prizes at the town hall earlier this week.  
"We've had a wide range of entries this year and we've been very impressed with the standard of work," he said.   
"The personalities of the young people have really come across and they've shown real interest in, and engagement with, the area in which they live. Their work has clearly showed what they've learnt, and in many cases was used as a springboard to create interesting narratives linking the past to the present.  
"We hope all entrants enjoyed taking part in this year's Heritage Awards for Schools as much as we did going through the entries. It's been great to see everyone's creativity." 
This year's winners were: 
Amaia Breeze (Our Lady of Victories): Amaia used maps, street directories, Census entries and historic photographs to shown what the area surrounding her home used to look like and to compare it to modern times. 
Olivia Brooks (Honeywell): Olivia used historical information about her street to come up with a piece of creative writing. She also took her own photographs of her street and surrounding area to create a collage. 
Tommaso Cartolano (Our Lady of Victories): Tommaso used a variety of sources including maps, Census entries and newspaper articles. Living in a modern building, Tommaso traced back the use of the land and created an interesting narrative linking the past to the present. 
Megan Goldheart-Spink (Sacred Heart): Megan's video entry was fluently presented, beautifully edited, and used a wide variety of sources to tell the story of her home and the surrounding areas. 
Isobel Roberts (Holy Ghost): Isobel pulled together a number of resources to tell the story of her home using maps, entries from street directories and online newspaper articles.  
Although they did not win a prize, the following children produced work that was Highly commended: Clara Davies (Our Lady of Victories),  Jamie Drummond (Rutherford House), Lochlan Grimaldi (Hotham), Declan Martin (Our Lady of Victories)