Past and Future - Wandsworth's parks and open spaces
Published: Monday, September 6, 2021
As the borough recovers from the Coronavirus pandemic, Wandsworth Council is seizing the opportunity to make it a greener, better place to live. In a series of articles, we are looking at the past and future of our borough.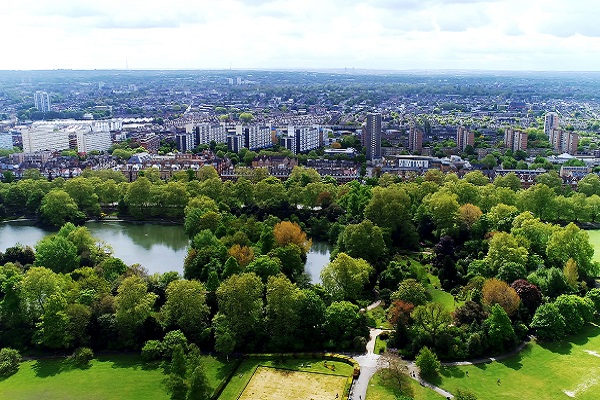 Wandsworth is a very green and leafy place to live and has the most public green space as a percentage of land of all inner London boroughs.
In total there are 34 parks and commons, eight allotments and five cemeteries, as well as community gardens, grass verges on council land, churchyards and old burial grounds. It total, it all adds up to 1700 acres.
But why and when did these parks and open spaces first appear, and what plans are in place to make sure they will still be there for future generations to enjoy?
Although Londoners previously had access to pleasure gardens, commons and royal hunting grounds (such as Richmond Park), it was the Victorians who designed and built the first dedicated public parks when they recognised that decades of industrial growth meant people living in cities had few opportunities to relax and exercise in the open air.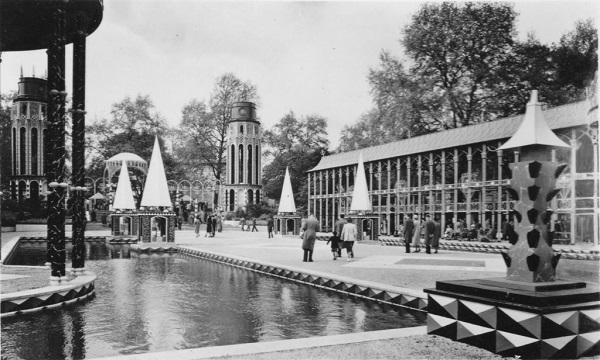 The Festival of Britain pleasure gardens
Battersea Park was one of the first to open after a Royal Commission recommended creating it in 1858. Covering some 200 acres, the park was created out of fields and marshlands and included exotic plants in the park's sub-tropical garden, the first of its kind to open to the British public.
During the war the park suffered extensive bomb damage and was also used for allotments, pig farming, troop dispersal areas, bomb shelters and anti-aircraft gun emplacements. In 1951 the park was chosen for the Festival of Britain Pleasure Gardens, including a permanent funfair which for many years proved enormously popular.
Under the stewardship of the Greater London Council, the park became somewhat rundown in the 1970s and '80s and it was eventually taken over by Wandsworth Council in 1986. Since then, millions of pounds have been spent transforming it.
As a rule, the council avoids holding large events in its parks. (Clapham Common, which hosts festivals and concerts, is managed by Lambeth Council although part of it is in Wandsworth). An exception was the Formula E event in 2015-16 which generated around £840,000 to be used on improvements to the park including a new playground, a new entrance, the restoration of railings and shelters, and the creation of the riverside Promontory Garden.


Other early parks in Wandsworth included Christchurch Gardens (1885), Vicarage Gardens (1888) and Leader's Gardens and Coronation Gardens (both in 1903).
Leader's Gardens is named after the radical politician John Temple Leader, and was built on the site of his Putney estate. Coronation Gardens in Southfields is named after the coronation of Edward VII and was created on land donated by The Mayor of Wandsworth, William Lancaster. His sisters donated the granite drinking fountain.
As part of the Festival of Britain, a memorial was created at Christchurch Gardens to the Battersea civilians killed in the second world war and was intended as a place of rest and contemplation (below).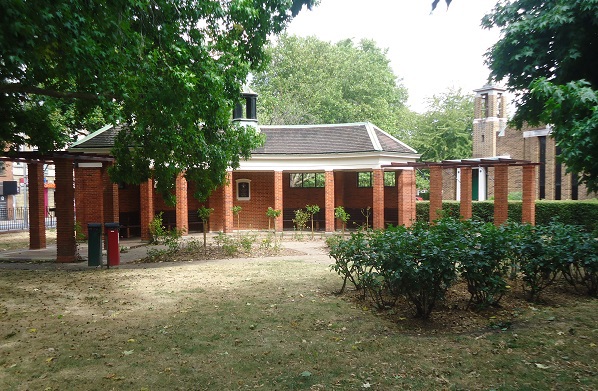 One of the borough's finest parks, Wandsworth Park on Putney Bridge Road, was built on former allotments. The land was bought for £33,000 by the London County Council, the park opened in 1903 and it has remained relatively unaltered ever since. Containing more than 350 trees, it's carefully watched over by Friends of Wandsworth Park, who recently spearheaded the opening of the new Riverside Terrace.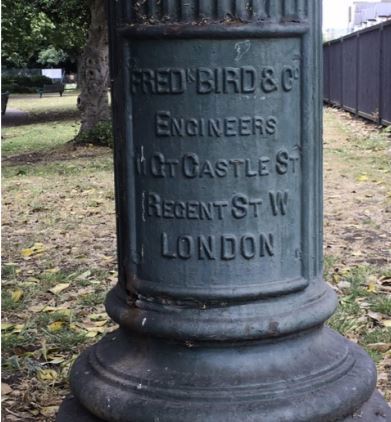 Look closely at an old pipe near the noticeboard at the park's entrance and you will see the remnants of a 'stink pipe'. These were installed across London as part of an extensive ventilation system in response to the Great Stink of 1951. Meanwhile Tooting Gardens was created on part of a former council 'slop shoot' or rubbish depot. Slop shoots were replaced by 'dust destructors' which were huge furnaces built to burn as much rubbish as possible, with enormous chimney shafts taking away the subsequent smell and pollution. A dust destructor was built nearby, and when it became derelict the Fountain Road Recreation Ground was created on the site.
At the other end of Garratt Lane, King George's Park was laid out in 1921 by unemployed soldiers. It was originally called Southfields Park but the name was changed when King George V agreed to open it in 1923, and it included a swimming pool and menagerie. After the war the park was home to a hundred prefab homes. Extra fields have gradually been added to the park over the years, including the Wandsworth Gas site in 1990.
In 1906 Latchmere Recreation Ground in Battersea was at the centre of the Brown Dog Affair – a row following the allegedly illegal vivisection of the dog. A statue of the brown dog was erected and the park became the scene of fierce battles between pro- and anti-vivisectionists and required 24-hour police protection. The statue was removed by Battersea Council in 1910, but a new one was erected in Battersea Park in 1985 (below).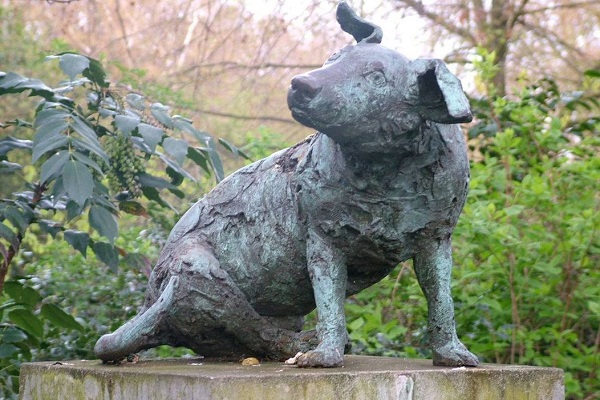 After the second world war, some parks were created out of post-war bomb sites, including Fred Wells Gardens. Fred Wells was a local councillor and long-term resident known for his tireless work on behalf of his Battersea neighbours.
Previously the responsibility of the London County Council, smaller parks and the commons were handed over to Wandsworth Council in the 1970s and since then the council has focused on maintaining, preserving and improving them.
Both Tooting and Wandsworth Commons largely owe their existence to local people who fought to protect them from enclosure and development. This year the Friends of Wandsworth Common celebrates 150 years since the Act of Parliament that secured the future of the common and have published a book on its history. Find out more at wandsworthcommon.org.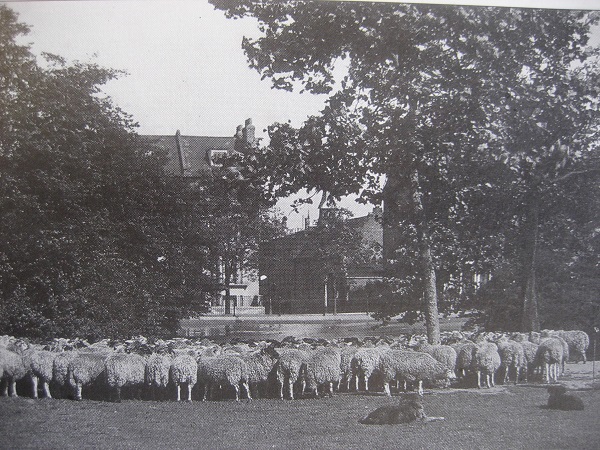 Sheep grazing on Wandsworth Common
In 2015 Wandsworth Council was awarded just under £1.4m by The National Lottery Heritage Fund as part of a larger £1.9m scheme to explore, restore, conserve and enhance the cultural and natural heritage of Tooting Common. Between 2016 and 2019, the Tooting Common Heritage Project worked in partnership with local community groups to improve and monitor biodiversity and habitats, to conserve and restore heritage landscape and architectural features, uncover the hidden history of the common and teach people about the its rich past and biodiversity. As part of the project The Common Story, a history of Tooting Common is available to download for free.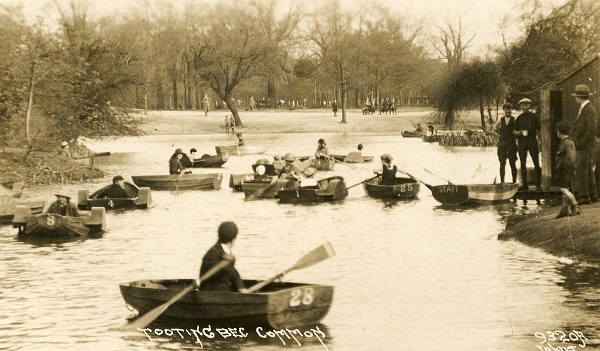 Tooting Common Boating Lake, 1925
The pandemic has shown the importance of providing spaces where people can relax, stay healthy and have fun. Wandsworth Council works with its contractor Enable to manage local parks and green spaces, and these days the emphasis is very much on biodiversity, making the parks enjoyable and accessible for all, and celebrating and protecting their history and heritage.
Wandsworth is also planting trees and greenery and creating small 'pocket parks' and parklets in town centres - for example the new Tooting pocket park. It works to make the riverside accessible and pleasant for local people to enjoy, including cleaning up the Wandle, which at one point was virtually an open sewer, and developing the Wandle Delta masterplan to improve access to the Thames and better integrate it with Wandsworth Town.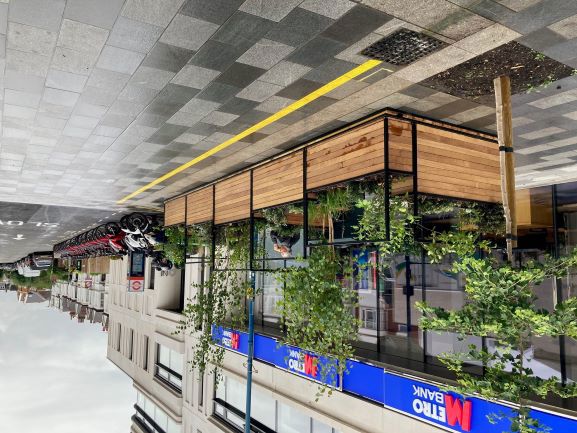 A 'parklet' in Putney
Looking to the future, the council will continue to work with partners to develop the Wandle Valley Regional Park, and large new public parks are planned at Springfield Hospital in Tooting and in Nine Elms to serve the flourishing new community there. Meanwhile new developments applying for planning permission will be expected to contribute to 'urban greening' as set out in the borough's Environment and Sustainability Strategy.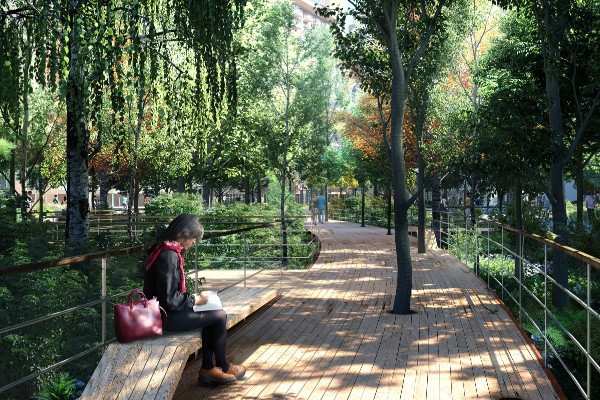 The Nine Elms Park
It's also all about making sure local communities have a sense of pride and ownership, and there are several Friends' groups who contribute a huge amount to local green spaces. New ones are being formed all the time – recent additions include The Woodfield Project and groups for Coronation Gardens and Christchurch Gardens. See a list of all friends' groups.
Richard Fox and Julia Bott, who run the Friends of Wandsworth Common, say friends' groups are vital to ensure local people work constructively with the council to protect green spaces.
"Friends groups are a really good way to create a community focussed on our own little piece of countryside. The Friends of Wandsworth Common are only three years old, and we already have more than 600 members.
"It's easy to sit back and take for granted or complain without really understanding the delicate balance of managing green spaces in terms of sustainability and biodiversity.
"Wandsworth Common is very much managed for its biodiversity and the council does not allow big events to be held there, which we very much support. We're in a climate and biodiversity emergency and we cannot afford to sit back and let our biodiversity be damaged."
Cllr Sutters at 2020 litter pick with the Friends of Wandsworth Common
The council's parks and open spaces spokesman Cllr Steffi Sutters said: "We are immensely proud of our beautiful green spaces. The pandemic showed how important they are to local people, and we believe we are successfully achieving a balance between providing people with places to relax, exercise and play while at the same time properly maintaining and enhancing delicate ecosystems.
"This means creating strong, sustainable greenspaces that can withstand both climate change and use by local people. We have a wide range of management plans and strategies in place, including our new biodiversity strategy, and we only allow a small number of events each year like the Battersea Park Fireworks that can guarantee no impact to our biodiversity efforts.
"Please do enjoy your local park and if you want to get more involved, join your local friends group. We want to make sure local people have a say in the future of these precious places."
See a timeline of the creation of Wandsworth's parks
More information on the borough's parks and open spaces
Other Past and Future articles: