New look playground on the horizon at King George's Park
Published: Wednesday, September 22, 2021
King George's Park in Southfields is to get a new look £167,000 playground whose final design was shaped by local families.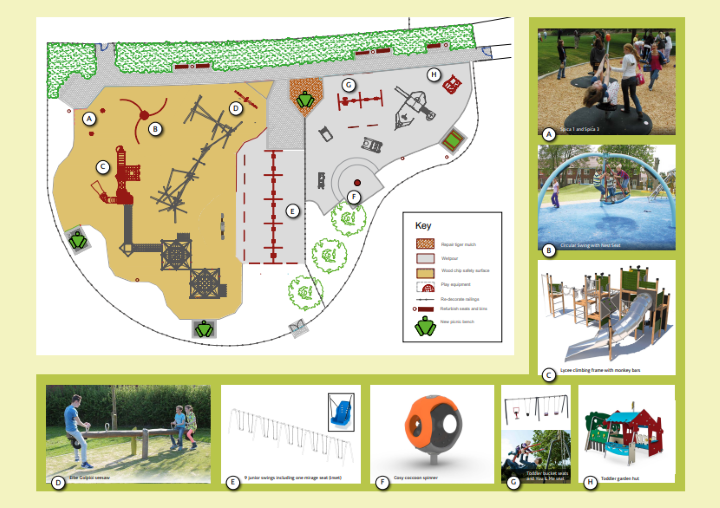 Children and parents in the area helped choose the new play equipment which is currently scheduled to be installed from the beginning of November.
Families were asked to choose their favourite from three exciting designs for an improved and upgraded junior and toddler playground in this popular green space.
The playground is designed to be used by children of all ages up to the age of 16.
The £167,000 scheme brings the council's investment in local playgrounds to well over £1m over the past three years.
More than 250 votes were received for the various designs with 91 per cent of those taking part living in the immediate area. The winner - option 3 - will now be implemented but to include some of the new suggestions generated during the consultation.
These additions include:
- Monkey bars added to the Lycee Climbing Frame
- A second seesaw
- An inclusive mirage seat on the junior swings
- An additional picnic table to provide more seating for adults
The three designs were drawn up based on previous survey results which asked children and families what new types of new play equipment they'd like to see installed and also following assessments of which of the existing equipment is most in need of replacement.
Funding for the improvements comes from money the council has levied on property developers to help pay for community and local neighbourhood infrastructure improvements.
Over the past three years nearly £8m has been spent on these local initiatives including schemes to support safer communities, employment opportunities for young people, better pavements and improved parks and playgrounds.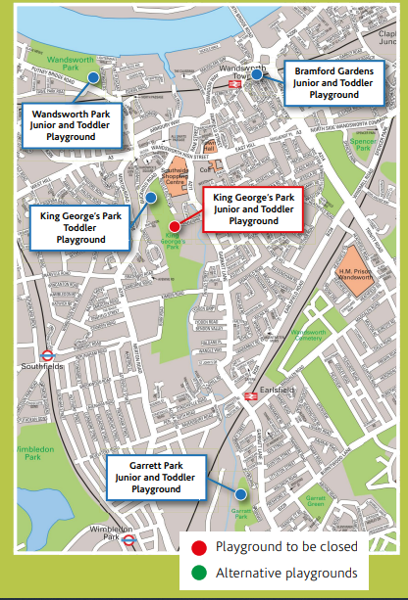 Other playgrounds that can be used when the project is underway 
Parks and open spaces spokesman Cllr Steffi Sutters said: "The play equipment that is about to be installed here was chosen by local parents and children who took part in our recent consultation so I am delighted that we are making their choices a reality.
"Once the refurbishment has been completed I think young families in this part of the borough will absolutely love their brilliant new-look playground."
The project will take around seven weeks to complete, weather permitting, and the playground will be closed during this time.