Fishponds Playing Fields to remain open for families to enjoy
Published: Thursday, September 9, 2021
Following a successful pilot scheme over the summer which saw families enjoying a range of activities at Tooting's Fishponds Playing Fields, a programme of future outdoor family events has now been drawn up through to the end of the year.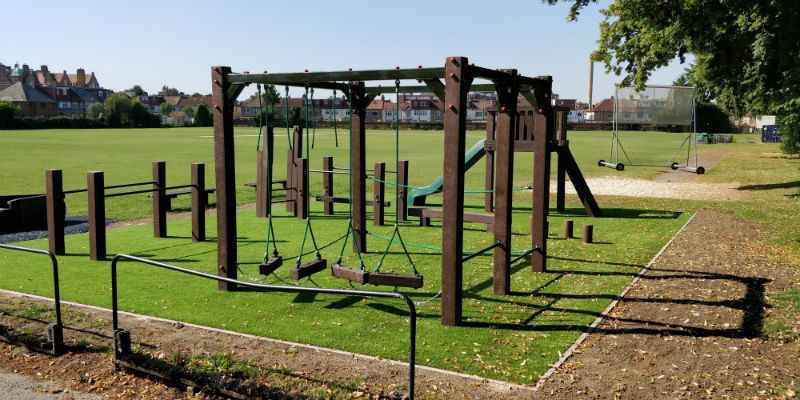 The playing fields have been a popular destination for exercise and play over the summer. Throughout August an average of around 350 adults and children visited each week.
As a result of its popularity in giving local families a green outdoor space to enjoy, a programme of events has now been compiled until the end of December.
Activities on offer will include:
• A female only fitness session will start off the week.
• A weekly Zumba fitness session
• A 'couch to 5k' running programme for absolute beginners and people wanting to get fit.
• Active hour/weekly challenge – the chance to challenge friends and family at games and leisure activities.
• Adult circuit sessions designed to improve all round fitness levels.
• Park Rangers stay & play multi-sport sessions for the under 11s.
The events are being offered by the council's leisure and culture contractor Enable at the following times when the playing fields will be open to the public for general use:
• Mondays, Wednesdays and Fridays - between 9am and midday and from 3pm to 5.30pm.
• Saturdays and Sundays - 10am to 4pm.

The site remains available for sports bookings for local schools and sports clubs for organised team sports, including cricket, football and rugby. Bookings can be made via the council's website.
Wandsworth's environment spokesman Cllr Steffi Sutters said: "The attendance figures over the summer holidays show that the playing fields are a valued and popular space for families in this part of Tooting to exercise and use to keep fit and stay healthy.
"As a result we have worked out a schedule of ongoing regular activities throughout the week and at weekends that are being offered by Enable when the playing fields will be open.
"The calendar of events we've devised allows Fishponds to continue to fulfil its primary purpose as a playing fields for organised team sports while also supporting local families who wish to use the space for other health and well-being community activities."
On average Fishponds is used by local clubs and schools for more than 1,600 hours of sports activities every year - equivalent to more than 1,000 football matches. It has been officially designated as sports playing fields by national watchdog organisation Sport England.

Some of the activities offered by Enable will be free of charge, but there will be a modest fee for others. For further details of the activities on offer and the timetable please visit Enable's website.
When the playing fields are in use the borough's parks and open spaces bylaws will apply. Dogs are not permitted and nor are cyclists or picnics. People should also make sure they do not leave any litter.
At times some areas will be fenced off to protect playing surfaces. Visitors should not enter these areas.
Outside its opening hours, the gates will remain locked to prevent anti-social behaviour, which has previously been reported by residents whose homes back onto the site. Anyone witnessing anti-social behaviour at the playing fields is urged to contact the Wandsworth Parks Police service.