Cycle safety improvements part of ongoing £1.6m upgrade to Southfields 'village'
Published: Friday, September 24, 2021
Cycle safety in Southfields has been enhanced with the introduction of new bike friendly traffic signals as part of the ongoing environmental upgrades at its "village centre".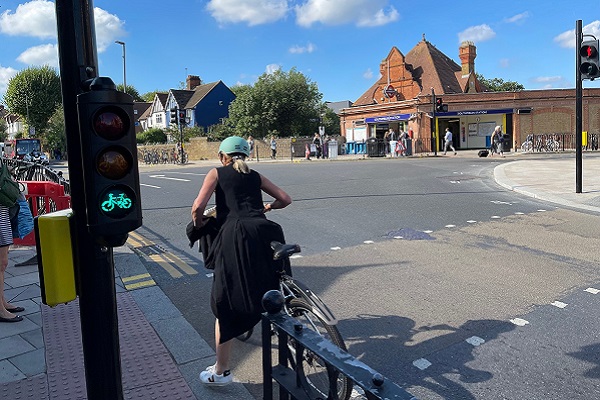 Work is continuing apace on a series of public realm improvements designed to improve the area for cyclists and pedestrians.
The scheme has already seen a range of improvements completed in Replingham Road with new trees planted, refurbished pavements, improvements to shop forecourts, new cycle stands and upgraded street lamps.
Now as the project continues, new bike friendly traffic signals have been introduced at the junction of Replingham Road, Augustus Road and Wimbledon Park Road. These specially designed signals allow cyclists to set off before vehicle traffic – giving them a head start and time to clear the junction before cars and lorries can move.
Other features include cycle mirrors so larger vehicles can see bikes at the stop line plus a pedestrian countdown so people know exactly how long they have to wait and how long they have to cross the road.
Further improvements include wider pavements and new seating outside the entrance to the tube station.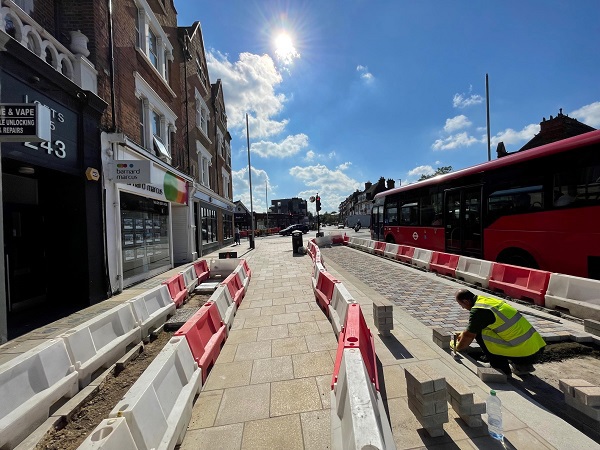 The upgrades are part of a £1.6m scheme to improve travel options in Southfields and enhance its "village-style" atmosphere.
Funding for these upgrades has come from the Wandsworth Local Fund which contains cash sums levied from housing developers in the area that are used to pay for local infrastructure improvements.
Wandsworth's cabinet member for strategic planning and transport Cllr John Locker said: "This far-reaching programme of upgrades is having a really positive effect on the look and feel of this key area in Southfields.
"The new wider pavements and tree planting is helping to make the area much more attractive for pedestrians and helping to attract shoppers to Southfields businesses and I'm delighted at these new cycle safety measures which will help encourage people to take up this form of travel.
"This is an excellent scheme that is really helping to boost this important part of the borough." 
For more information about the scheme please visit Southfields public realm improvements - whole scheme (wandsworth.gov.uk)
For details of the improvements to Replingham Road visit Southfields public realm improvements - Replingham Road (wandsworth.gov.uk)