Cashless parking is changing
Published: Friday, September 24, 2021
Wandsworth council's cashless parking service is changing to RingGo Start: Stop.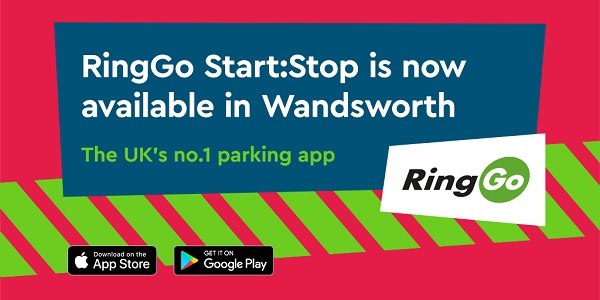 The switchover began on September 15 when the new service was made available alongside the existing Parkmobile service. The formal switchover will be on October 1 and Parkmobile will no longer be available from mid-October. 
RingGo is run by the same company that runs Parkmobile. The council has chosen to offer the RingGo Start:Stop service because it means motorists pay only for the time they are parked. They do this by starting their parking when they arrive, and then stopping the parking session, via the app or by a voice call, as they leave.
Phone parking has been particularly popular over the last 18 months, as motorists have chosen to pay to park without using cash, rather than having to touch the shared surfaces of machines. 
Cabinet member for finance Cllr Kim Caddy said "The main difference customers will see will be that RingGo Start:Stop only charges for the time you are parked rather than having to guess how much parking you will need. RingGo is also the UK's most widely available phone payment app, offered by more than 140 other local authorities."
Peter O'Driscoll, Managing Director for RingGo says "the London Borough of Wandsworth was the very first local authority in the UK to offer cashless parking, way back in 2003, so we are particularly pleased that it is now moving to RingGo, the UK's no.1 phone parking service. 
"Over this last year, we have seen an unprecedented shift from machine to phone parking payments, as motorists sought safer options. So, with this move, we are anticipating even greater levels of RingGo usage across the borough."
RingGo offers motorists a choice of ways to pay: the most popular is via the RingGo app, which can be downloaded free of charge from the App Store or Google Play Store. Users that don't have a smartphone can book their parking by calling, sending a text message, or paying online. 
RingGo estimates that more than 99 per cent of current cashless parking users in Wandsworth are already registered with the service. Any existing Parkmobile user that has not used RingGo previously should download the RingGo app and complete their registration, ahead of the service transfer. This will ensure they can continue paying to park by phone quickly and easily as the new service goes live.
Registered Parkmobile users will also be contacted directly to inform them of the change.