Apply for a cargo bike
Published: Tuesday, September 7, 2021
Wandsworth businesses are being encouraged to apply for funding for an eCargo bike.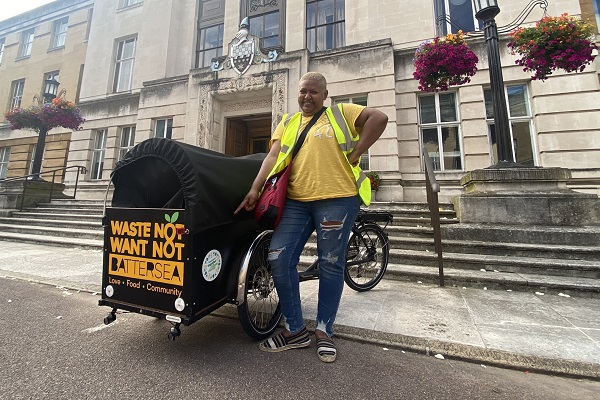 The council already has a partnership with Peddle My Wheels to enable businesses and residents in the borough to hire a bicycle, e-bike, cargo bike, e-cargo bike or trailer.  
Now an additional £40,000 is being made available by the Government, which will be distributed by the Energy Saving Trust on a first-come, first-served basis. Businesses and organisations can receive up to 40 per cent the total cost of a new eCargo bike, up to the value of £2,500 for two-wheel models and £4,500 for three-wheel models. Find out more. 
Various businesses and organisations in Wandsworth have already received cargo bikes via Peddle My Wheel's scheme and previous rounds of the Energy Saving Trust scheme. The council is also developing a shared e-Cargo Bike scheme, ideal for businesses and organisations who would like a cargo bike but are short of storage space. 
See the council's website for case studies of how cargo bikes are already being used in the borough. 
Cabinet member for climate sustainability Cllr Kim Caddy said helping businesses access eCargo bikes is part of the council's Environmental and Sustainability Strategy to become a carbon-neutral organisation by 2030 
"We know that businesses and local organisations that have eCargo bikes absolutely love them. They're a great way to make deliveries and get out and about, and they help us meet out climate change pledge by reducing traffic and air pollution.  
"We welcome this additional Government funding and would urge people to think about whether an eCargo bike could work for them."
The council provided two cargo bikes to Waste Not Want Not Battersea earlier this year through a previous round of the Energy Saving Trust Scheme. Founder Hadas Hagos said: "Our bikes have already done more than 500 miles. Previously we used a van to transport food from New Covent Garden Market to our recipients, but the van isn't ULEZ compliant and not all of our volunteers have a driving licence.   
"The two cargo bikes have proved more accessible to volunteers and is used regularly to collect fruit and vegetables which would have otherwise gone to waste, to distribute in the Battersea community."  
To apply to the Energy Saving Trust visit their website. You must apply by December 14. A decision will be made within 15 days of the application.  
Any businesses who would like to discuss the application, find out about the shared cargo bike scheme, or be put in touch with existing cargo bike business owners in the borough to find out about their experiences, can email transportation@wandsworth.gov.uk. 
Find out about other support for sustainable transport, including bike training and storage, visit www.wandsworth.gov.uk/cycling