Wandsworth residents are among London's fittest and most active
Published: Thursday, October 28, 2021
People living in Wandsworth lead more active and healthier lives than most Londoners, new figures show.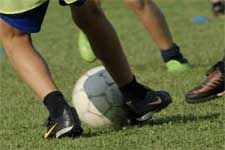 A survey carried out by Public Health England into people's physical activity and daily exercise routines has revealed that Wandsworth residents are among the capital's fittest.
In a league table of fitness and activity, the survey ranked Wandsworth sixth out of London's 33 boroughs.
The research was based on information supplied by people aged 19 and over, doing at least 150 moderate intensity equivalent (MIE) minutes of physical activity per week in bouts of ten minutes or more in the previous 28 days.
Regular physical activity is associated with a reduced risk of diabetes, obesity, osteoporosis and colon/breast cancer and with improved mental health. In older adults physical activity is associated with increased functional capacities.
People who have a physically active lifestyle have a 20-35 per cent lower risk of cardiovascular disease, coronary heart disease and stroke compared to those who have a sedentary lifestyle. The estimated direct cost of physical inactivity to the NHS across the UK is over £900 million a year.
Wandsworth residents can enjoy some of the capital's best sports, leisure and fitness facilities.
Ranging from the Tooting Bec Lido - Europe's second largest open air freshwater swimming pool to the Olympic style running track in Battersea Park, the borough's flagship riverside sport centre at Barn Elms and some of London's best maintained parks and open spaces, residents have numerous ways to keep fit and stay healthy.
For more information about the borough's sports, leisure and fitness facilities, visit the council's website.