Wandsworth Arts Fringe wants you!
Published: Tuesday, October 12, 2021
Wandsworth Arts Fringe returns next summer from Friday June 10 to Sunday June 26, 2022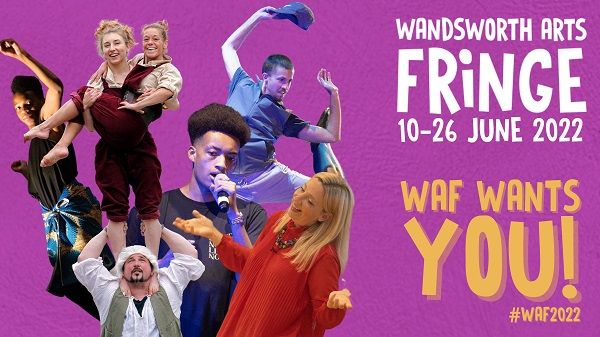 Now it's looking for artists, venues, community groups, schools and local business who want to get involved. Council grants of up to £2,000 per projects are available to make your idea a reality - apply by January 4. 
Every year Wandsworth Council's flagship arts festival takes over the borough with an eclectic programme of comedy, theatre, circus, music, dance, talks, film, family workshops, exhibitions, outdoor arts and much more.
WAF 2021 was London's first hybrid live and digital arts festival, with more than 10,000 people coming to live events from across London, and more than 3000 people enjoying performances from their home.
In total audiences were treated to 130 events, with one audience member commenting: "Well done for bringing an arts festival to the community in difficult circumstances. The enthusiasm of the performers to be giving a live show for the first time in many months was really quite heart-warming, and made me feel really pleased that made the effort to come."
In 2022, WAF hopes to bring back even more live events, and celebrate the Wandsworth community in its pubs, venues, parks and streets, as well as continuing to ensure those at home can enjoy digital projects with the WAF In Your Living Room programme.
Wandsworth Council's arts spokesman Cllr Steffi Sutters said: "During the pandemic our arts team have done a fantastic job ensuring WAF went ahead – as one of the first digital festivals in 2020 and then as a hybrid event in 2021.
"I can't wait to see what's in store for WAF 2022 and look forward to seeing art and performance at the heart of local communities once again."
If you are interesting in taking part visit wandsworthartsfringe.com to find out more. 
To keep up to date with information about WAF 2022 follow: 
Facebook @wandsworthartsfringe 
Twitter: @WAFfringe 
Instagram @wandsworthartsfringe