Time to check your vehicle complies with ULEZ charging scheme
Published: Friday, October 22, 2021
Motorists are being advised that now's the time to check whether or not their vehicle complies with the Ultra Low Emission Zone (ULEZ) restrictions which will come into effect in parts of the borough on Monday.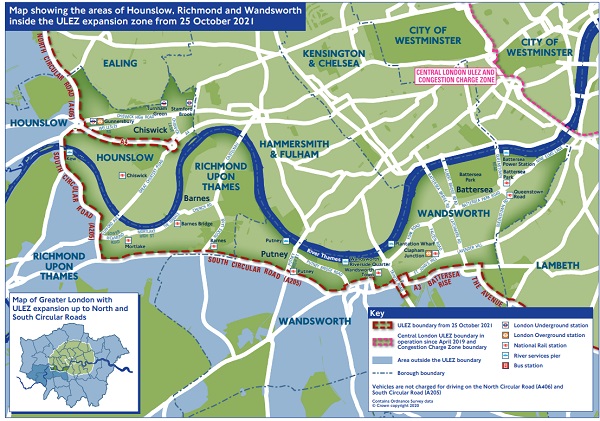 October 25 sees the existing central London zone expanded to cover parts of Putney, Wandsworth and Battersea. From Monday it will include all areas of London within the North and South Circular Roads. These two ring roads will form the boundaries of the new zone.
Vehicles that comply with the emissions standards will not have to pay anything to drive within the zone – but cars, vans and motorcycles that don't will have to pay a £12.50 charge. Failure to pay the daily fee will result in a £160 penalty charge (reduced to £80 if paid within 14 days).
Cars and vans that do not need to pay are:
• Petrol with Euro 4 engines. These are generally those first registered with the DVLA after 2005.
• Diesel with Euro 6 engines. These are generally those first registered with the DVLA after September 2015.
The rules will apply 24 hours a day seven days a week (except Christmas Day).
Motorcycles will need to meet Euro 3 standards to comply.
Drivers can use Transport for London's online checking tool to see if their vehicle is exempt from the charge or will be required to pay.
Residents can also check if their home is included within the newly enlarged zone by checking a detailed neighbourhood map on the Transport for London website.
Vehicles entering the central London Congestion Charge zone will also need to pay an additional £15 unless they are electric or hydrogen fuel cell powered.
For more information please visit the TfL website.