Have your say on air quality plan
Published: Friday, October 15, 2021
A new draft Air Quality Action Plan sets out how the council will continue its work to further reduce air pollution in the borough.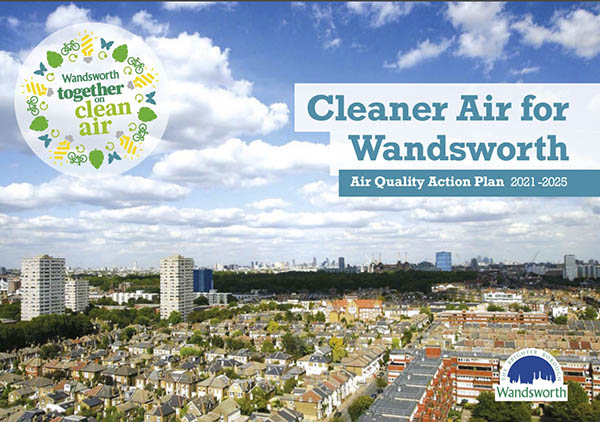 Now local people are being asked to take part in a 12-week consultation so their views can feed into the final plan.  
The council has pledged to reduce pollution and its impact as part of its actions to tackle climate change under the Wandsworth Environment and Sustainability Strategy.   
A great deal of progress has already been made reducing air pollution in Putney High Street, Tooting High Street and Clapham Junction since the publication of the previous plan in 2016. There have also been significant reductions in Particulate Matter pollution from construction sites in Nine Elms.  In Putney High Street the number of hours nitrogen dioxide levels were breached has fallen from 1248 in 2016 to 11 in 2019 and four in 2020.    
This is thanks to measures including lobbying TfL for cleaner buses and better public transport links, improving access to car clubs and electric vehicle recharging points, reducing carbon emissions from council buildings and close regulation of construction sites. Clean Air Villages have been set up in Tooting and Putney to help local businesses tackle pollution, including the use of cargo bikes for deliveries, and active travel has been encouraged by installing bike storage hangars and introducing school streets.  
Wandsworth is working to achieve the recommended objectives for both nitrogen dioxide and particulate matter within the lifespan of the 2021-2025 action plan. Future actions in the draft plan include:   
Prioritising areas including schools, hospitals and care homes as well as town centres.   
Working with schools including anti-idling campaigns, educational projects for children and practical measures such as helping them draw up school travel plans.
Protecting green spaces, planting trees and enhancing biodiversity 
Putting air quality issues at the heart of the council's planning, transport planning and procurement processes 
A new Walking and Cycling Strategy  
Making the council's fleet of vehicles less polluting.    
Further improving the air quality monitoring network   
Zero emissions zones for council buildings
Wandsworth's cabinet member for climate sustainability Cllr Kim Caddy said: "We have already made great progress to improving air quality and are working to put tackling climate change at the very heart of all our work.  
"We have come up with a range of actions that we think will further clean up the air, but we are keen to hear the views of local people before we draw up the final plan."   
Members of the Air Quality team will be at the Wandsworth Together on Climate Change closing event on November 13 and will be answering questions. Find out more.