Don't lose your right to vote - make sure you respond to the annual canvass
Published: Friday, October 29, 2021
With a local by-election in Balham's Bedford ward less than a month away and full council elections scheduled for next May, residents are being urged to make sure the borough's electoral register has accurate and up-to-date information about eligible voters in their households.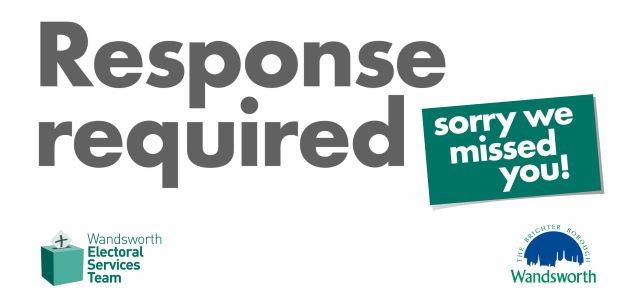 The borough's Electoral Services team is conducting its latest annual canvass of Wandsworth's eligible voters so that local people's voices can be heard in any forthcoming election or referendum.
In order to plug the gaps in the register and make sure that no-one misses out on having the choice to vote, electoral staff are now visiting homes whose occupants have not yet responded to requests for information.
A canvasser will leave a 'Response Required' calling card if there is no answer when they visit. If you receive one of these please follow the instructions on the card straightaway. Further visits and forms may be required if a prompt response is not received.
Providing the information is quick and easy and should not take more than a couple of minutes. Sending staff out on these home visits places an extra cost on the public purse, so people who have not yet done so are being urged to respond as soon as they can - and help keep Wandsworth's council tax bills as low as possible.
For information about upcoming elections and the annual voter canvass, please visit www.wandsworth.gov.uk/vote.