Monica is Wandsworth Adult Learner of the Year 2021
Published: Friday, November 12, 2021
Monika Stojecka is the 2021 Wandsworth Lifelong Learning Learner of the Year.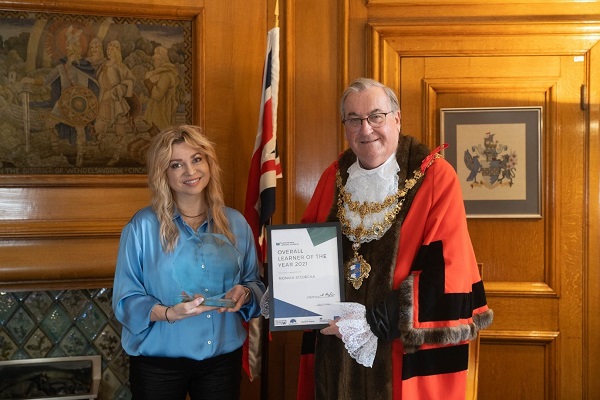 National Lifelong Learning Week, Monday 8 November – Friday 12 November 2021, shines the spotlight on what can be achieved in adult education.
As part of Lifelong Learning Week, the annual Wandsworth Lifelong Learner of the Year Awards recognise the achievements of the borough's top adult learners. This year seven have been showcased on social media - rewarding them for their commitment and success over the past 12 months.
There will be no awards evening this year. Instead, the council's Lifelong Learning Team have focused on the wide range of courses on offer from the council and its partners, and the hard work and dedication of some of the most successful learners.
The film showcases the borough's top learners and captures the moment Monika found out she was Wandsworth's top learner. 
Adult learners have been telling their stories through interviews, videos, and photos, shared through the Lifelong Learning social media platforms. They include people who have been on courses provided directly by the council, and on those provided by subcontracted providers such as South Thames College and Deaf First.
All of the adult learners have been on apprenticeships or other courses that support skills for work, with a wide range of courses available for people to upgrade current skills or learn new ones.
This year's winner Monika found herself unemployed at the start of lockdown and used the courses available through the council to add to her CV, and found that her employment prospects were transformed.
Despite English not being her first language Monika enrolled for several courses which included a Level 1 Award in Health and Social Care. She also enrolled for other online courses that helped to develop her personal development skills for business including Building Resilience and Mentoring.
It is the first time Monika has ever done on-line learning and she was amazed to discover how effective it was, and also got to meet other students in the same position as her. In job interviews she was able to describe how she made the most of lockdown to develop her skills and this resulted in a number of job offers.
The Mayor of Wandsworth, Cllr Richard Field said: 'It was an absolute pleasure meeting Monika and hearing how she found out about the courses available. The on-line courses provided by the council made such a positive impact and enabled Monika to use her time so profitably during lockdown. She is an inspiration to other learners, and I wish her every success with her future career'.
The council's Lifelong Learning team run a wide range of courses for adult learners, including apprenticeships and courses to help people develop skills for work as well as the opportunity to learn to maintain positive mental health and well-being. Find out more.
There are also experienced careers guidance counsellors offering individual support. If you feel you could benefit, call 07919 392 254 or email Dustine.Davis@richmondandwandsworth.gov.uk.
For more information on Lifelong Learning visit www.wandsworthlifelonglearning.org.uk