Gabrielle's artwork shown to world leaders at COP26
Published: Wednesday, November 10, 2021
Artwork designed by a pupil at Battersea's Sacred Heart primary school has been exhibited on the world stage at the COP26 climate conference in Glasgow after being chosen as one of the winners of the Royal Bank of Scotland's MoneySense ClimateSavers Top Trumps competition.
In the run up to COP26, the bank tasked school pupils with designing an exclusive set of the iconic playing cards promoting sustainable behaviours. The children were asked to use their creativity to design their own versions of the cards that show the everyday actions young people can take to cut carbon emissions.
Ten-year-old Gabrielle from Sacred Heart was one of 26 winners chosen from more than 2,000 entries, impressing the judges with her entry encouraging children and parents to walk to school.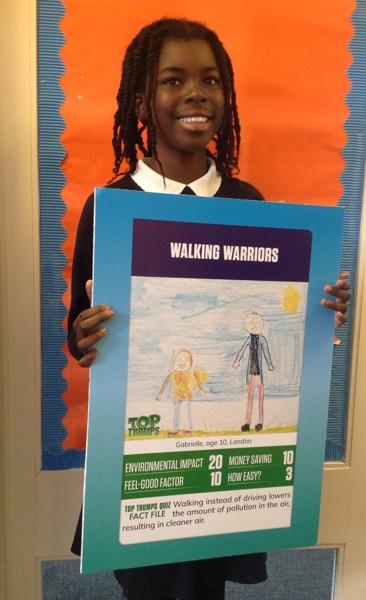 Her design was not only exhibited at the eco-summit but also featured in the new Top Trumps deck, shown to delegates and world leaders attending the conference.
Miss Viala a teacher at Sacred Heart who encouraged pupils to enter said: "Gabrielle and the rest of the class were so excited when they came up with their designs and it's amazing to hear that their hard work, dedication and passion to help make a difference has been rewarded."
"Our pupils are becoming more and more engaged in climate change and it's essential that we continue including them in those conversations as ultimately, they are the generation who will inherit the decisions we take today."
COP26 President-Designate, Alok Sharma said: "The interest and engagement that NatWest's climate competition for schools has generated shows how important this issue is to schoolchildren across the country."
While delegates from across the globe have been in Glasgow this week, people from across Wandsworth have been taking part in a series of events designed to raise awareness of climate change and explore ways of reducing the borough's carbon emissions. For more information about Wandsworth's 'Together on Climate Change Festival 2021' visit the council's website.